Reader Engagement Project:

THE BOOK
Know a group of teens that want to make a difference in their community or world? Are they some of the millions of high school students with a service-learning requirement? Either way, Be a Changemaker: How to Start Something that Matters by Laurie Ann Thompson (Beyond Words/Simon Pulse) will empower your teens with the confidence and knowledge they need to effect real change.
"Teens looking to make a difference will find inspiration as well as real-world strategies for realizing their dreams of being the change they want to see in the world."   —Kirkus Reviews
THE WORKSHOPS
Want to be a kickstart your teens to make changes in their community and world?
Curious City, Teen Librarian's Toolbox and author Laurie Ann Thompson have created a guide for running a series of six workshops based on the book.  Those workshops will empower you to guide teens through the changemaker process.
Complete with advertising posters, preparation guides, icebreakers, worksheets and more, the Be a Changemaker Workshops will get your teens actively thinking and acting on their ideas.
ENTER TO WIN a free copy of the book until 5/28/15 here.

Engagement / Programming Tool:
View, Download & Print Be a Changemaker Workshops

Explore other Be a Changemaker Tools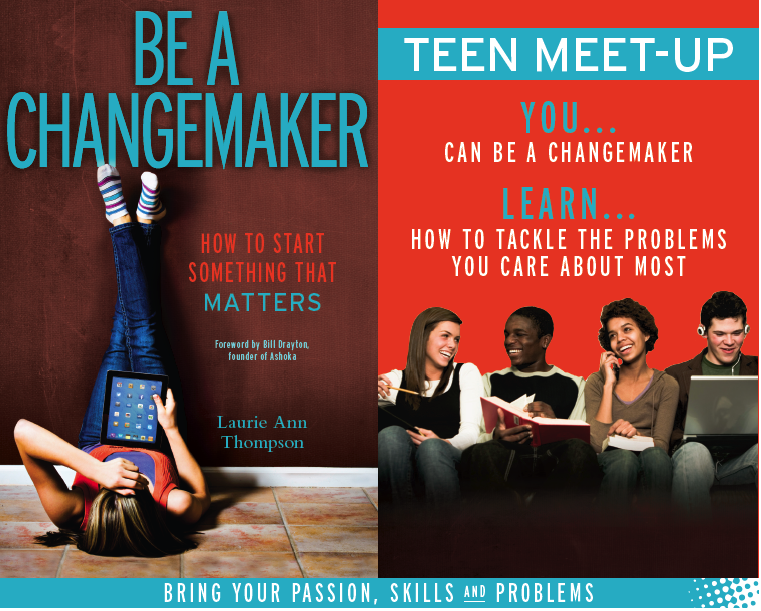 Best Users:
Public Children's Librarians, School Librarians, Community Groups, Grades 7-12
Best Audience:
Children Grades 7-12
More on the Book:
Be a Changemaker: How to 
Start Something that Matters

By Laurie Ann Thompson
Foreword by Bill Drayton
Published by Beyond Words/Simon Pulse
For Ages: 12 and up
Hardcover ISBN: 9781582704654, $19.99
Paperback ISBN: 9781582704647, $12.99