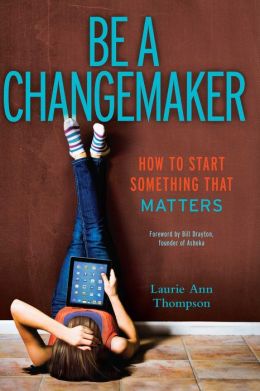 BOOK GIVEAWAY (Closed-Sorry)
For Librarians, Educators & Community Organizers
Hoping to Create Changemakers Ages 12+
It is time for a change and you can build changemakers!
We gave away individual copies of  Be a Changemaker: How to Start Something that Matters to 20 random librarians, educators and community organizer entrants. Our thanks to author Laurie Ann Thompson and publisher Beyond Words/Simon Pulse for the books!
Don't forget to grab the free, downloadable
Be a Changemaker Workshops Guide!
And the winners are…
Lakeside Junior High School
Natomas Charter School
Cesar Chavez Middle School
Everett Alvarez High School
Cheshire Public Library
Edna Zybell Memorial Library
Idaho Commission for Libraries
Boise School District
Tri-Township Public Library
Lincolnwood Public Library District
Emiliano Zapata Academy
West Springfield Public Library
Gleason Public Library
friends school of portland
Messalonskee Middle School Library
Hennepin County Library
School of Environmental Studies ISD 196
Yeshiva University HS for Boys
Wright State Universtiy
Cascade Middle School
The Hawley Public Library
Saint Lucia Public Library
Duchesne Academy
Northwest High School
King County Library System