Reader Engagement Project:

THE BOOK
When Josie and her brothers uncover a haunted camera, the Mothman legend becomes a terrifying reality that threatens their entire town in this spooky and action-filled novel, Mothman's Curse by Christine Hayes.
Josie may live in the most haunted town in America, but the only strange thing she ever sees is the parade of oddball customers that comes through her family's auction house each week. But when she and her brothers discover a Polaroid camera that prints pictures of the ghost of local recluse John Goodrich, they are drawn into a mystery dating back over a hundred years. A desperate spirit, cursed jewelry, natural disasters, and the horrible specter of Mothman all weave in and out of the puzzle that Josie must solve to break the curse and save her own life.
An ectoplasmic extravaganza…tailor-made for reading beneath the bedcovers. —Kirkus Reviews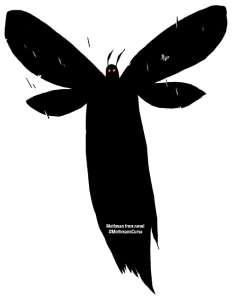 MOTHMAN SELFIE!
MOTHMAN PHOTOBOMB!
FAKE YOUR OWN MOTHMAN SIGHTING!
The 'thing' about Mothman in urban legend history and in the book is the spotting of the creature. Whatever it's appearance portends, one needs to photograph the Mothman to prove he was in fact spotted. We also suspect that the known photos of Mothman are all, well, faked.
Readers can now create their own Mothman sightings by cutting out their own Mothman (sort of a more sinister Flat Stanley) or using a digital Mothman in existing images.
Readers can share and follow Mothman sightings on:
Instagram: @mothmanscurse
Facebook: Christine Hayes
Hashtag: #MothmansCurse



Engagement / Programming Tool:
View, Download & Print Mothman Cut-out Sheet

Download Digital Mothman (.png)
Best Users:
Public Children's Librarians, School Librarians, Booksellers, Grades 03-06
Best Audience:
Children Grades 3-6
More on the Book:
Mothman's Curse
By Christine Hayes
Illustrated by James K. Hindle
ISBN-13: 9781626720275
Publisher: Roaring Brook Press
Publication date: 6/16/2015
Pages: 320
Age range: 8 – 12 Years