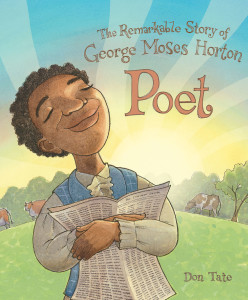 HISTORICAL PICTURE BOOK GIVEAWAY
For Educators, Librarians,
and Community Organizers
Serving Kids in Grades 01-09
(Closed-Sorry)
We are honored to have offered 25 copies of Poet: The Remarkable Story of George Moses 
Horton, a nonfiction picture book by Don Tate (Peachtree Publishers), as individual giveaways to clever entrants.
Our thanks to Peachtree Publishers for the donation!
The book tells the story of a North Carolina man who spent his lifetime writing and performing poetry despite being enslaved. For most of Horton's life, words were the only freedom available to him.
Want to use this book to teach the power of poetry and self-expression?

Free download of "Words as Freedom: Using Poet: The Remarkable Story of George Moses Horton to Teach Self-Expression & Poetry" available here.
WINNERS
Lewis University Library Unit 300, Romeoville, IL
Kershaw County Library, Camden, SC
Rancho Mirage Public Library, Rancho Mirage, CA
Bi-Cultural Day School, Stamford, CT
Fredonia Public Library, Fredonia, KS
Arthur Jacobsen Elementary School, Auburn, WA
Ps 69, Jackson Heights, NY
Winslow Public Library, Winslow, ME
Menchaca Elementary, Austin, TX
Southeast Elementary School, Jenks, OK
Fairview Elementary School, Maryville,TN
Park Elementary School, Hutchinson, MN
Benjamin Banneker Academy,East Orange, NJ
Kenton County Public Library, Erlanger, KY
Mebane Public Library, Mebane, NC
Greenwood Elementary, Florence,SC
Wood Ridge Education Foundation, Wood Ridge, NJ
Oswayo Valley High School, Shinglehouse, PA
Glen Ellyn Public Library, Glen Ellyn, IL
Carter County Public Library, Van Buren, MO
East Baton Rouge Parish Library, Baton Rouge, LA
Milkstone River School, Plainsboro, NJ
Cushing Upper Elementary, Cushing, OK
Woodlawn School, Portland, OR
Pond Creek-Hunter School Library, Pond Creek, OK