Reader Engagement Project:
THE BOOK

In the picture book Rosie Revere, Engineer by Andrea Beaty & illustrated by David Roberts (Abrams Books for Young Readers), Rosie overcomes a fear of failure to create a helicopter (first propelled by cheddar cheese spray and then by sturdier stuff).  Rosie's process mirrors the problem solving, planning, designing, testing, failing, and redesigning process of Engineers.
New York Times Best Seller
2013 Parents' Choice Award – GOLD
2014 Amelia Bloomer Project List

Bill Martin Jr. Award Nominee
"Told through Beaty's rhymes and Roberts's playful art, this tale of creativity and persistence will delight readers five and (way) up."  —Science Magazine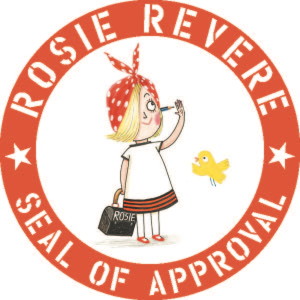 STEM EVENT KIT
For Libraries, Bookstores, Classrooms K-4, and Families

This activity takes your readers through the engineering process by adapting the blades of a paper helicopter.
Not familiar with STEM or Engineering programming or instruction? No worries. This event kit includes step-by-step instructions. It even provides sample dialogue!  The kit contains everything you will need except for some common office supplies.
This kit was created in 2014 by Carolyn DeCristofano, science educator and consultant with Blue Heron STEM Education, Curious City DPW, and author Andrea Beaty. CCSS and NGSS Standards alignments are included!
Engagement / Programming Tool:
View & Download Rosie Revere, Engineer Event Kit
View & Download Simple STEM "Rosie-Copter" Activity Sheet
Explore Other Tools on Andrea Beaty's site!
Best Users:
Educators Grades  05-10, Public Children's Librarians, School Librarians, STEM Educators
Best Audience:
Children Grades 00-04
More on the Book:
Rosie Revere, Engineer
By Andrea Beaty
Illustrated by David Roberts
Published by Abrams Books for Young Readers
ISBN-13: 9781419708459
Hardcover, $16.95
Grades: K-4
Rosie may seem quiet during the day, but at night she's a brilliant inventor of gizmos and gadgets who dreams of becoming a great engineer. When her great-great-aunt Rose (Rosie the Riveter) comes for a visit and mentions her one unfinished goal—to fly—Rosie sets to work building a contraption to make her aunt's dream come true. But when her contraption doesn't fly but rather hovers for a moment and then crashes, Rosie deems the invention a failure. On the contrary, Aunt Rose insists that Rosie's contraption was a raging success. Rosie realizes that you can only truly fail if you quit.
"Comically detailed mixed-media illustrations that keep the mood light and emphasize Rosie's creativity at every turn."
—Publishers Weekly