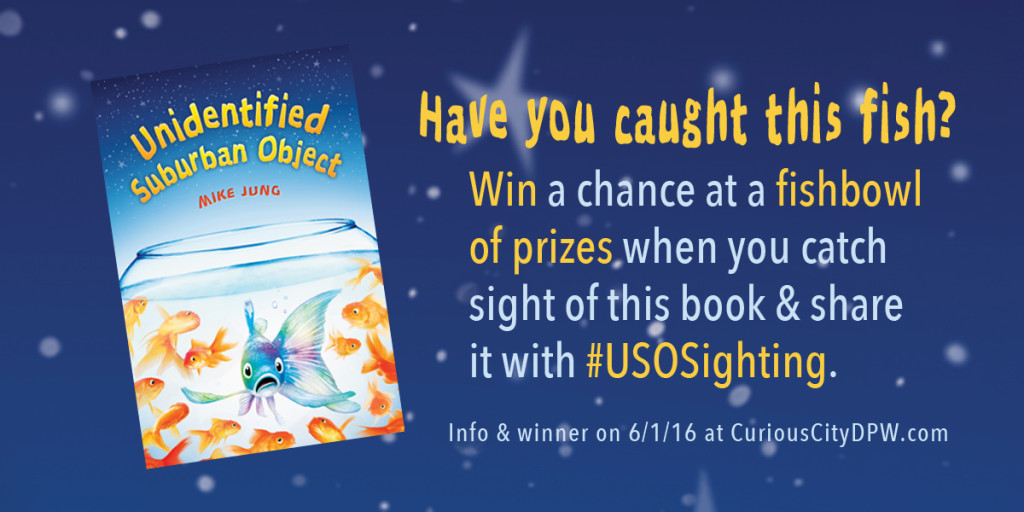 How Can You Win a Whacky Fishbowl of KidLit Prizes?
(Including a signed copy of Mike Jung's middle grade novel and other Jung-ian author treasures…)
Catch sight of Mike Jung's new children's book on shelves or online.
Snap a picture & share it on your social media.
Hashtag the post with #USOSighting.
Curious City will follow the hashtag like a slathering shark on a shimmering school of silver swordfish.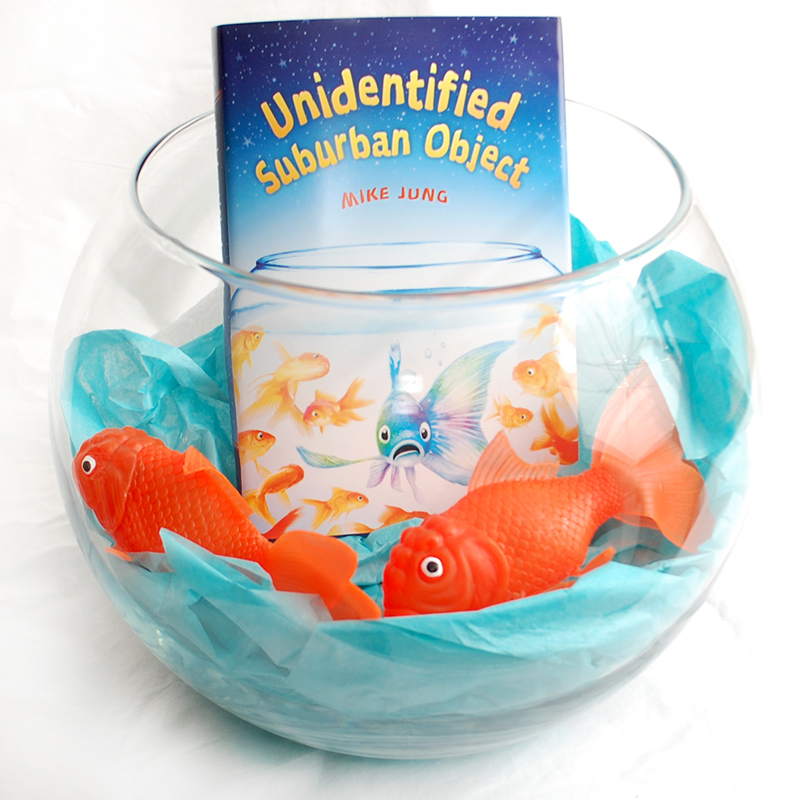 On 6/1/16, one random #USOSighting hashtagger will be contacted with the electric news that they have won the Unidentified Suburban Object Fishbowl of Prizes!  (That winner will have 4 days to respond before we swim on to other fish in the sea.)

About the Book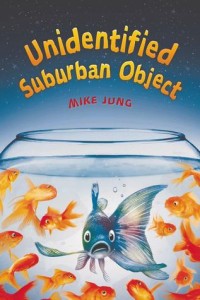 Unidentified Suburban Object
A Middle Grade Novel
By Mike Jung
Published by Arthur A. Levine Books
On-sale 4/26/2016
The next person who compares Chloe Cho with famous violinist Abigail Yang is going to HEAR it. Chloe has just about had it with people not knowing the difference between someone who's Chinese, Japanese, or Korean. She's had it with people thinking that everything she does well — getting good grades, winning first chair in the orchestra, et CETera — are because she's ASIAN.
Of course, her own parents don't want to have anything to DO with their Korean background. Any time Chloe asks them a question they change the subject. They seem perfectly happy to be the only Asian family in town. It's only when Chloe's with her best friend, Shelly, that she doesn't feel like a total alien.
Then a new teacher comes to town: Ms. Lee. She's Korean American, and for the first time Chloe has a person to talk to who seems to understand completely. For Ms. Lee's class, Chloe finally gets to explore her family history. But what she unearths is light-years away from what she expected.
"Funny, surprising, authentic."  —Gene Luen Lang
"Crackerjack ending." —Linda Sue Park
"Hilariously original!" —Jennifer L. Holm
"Wish I had written it instead.  Curse you, Mike Jung!!!!" —Ellen Oh