ELEVEN AND HOLDING
Discussion Guide for Middle Grade Novel

Best Users: Librarians, Educators, Book Clubs
Best Audience: Children Grades 04-07
About the Guide:
Publishers Weekly celebrated Eleven and Holding's "candid narrative voice" and "humor and pathos" in its "compassionate portrayals of grief, courage, and resilience."

A middle grade with that depth needs an equally compassionate discussion with readers.  These Discussion Questions and post-read classroom/book club Projects Ideas were created by middle school educator Catherine Maryse Anderson , a finalist for the Teaching Tolerance Educator of the Year.
DOWNLOAD THE DISCUSSION QUESTIONS
Eleven and Holding: Discussion Guide
(Alternative Link for Email Subscribers)
ABOUT THE BOOK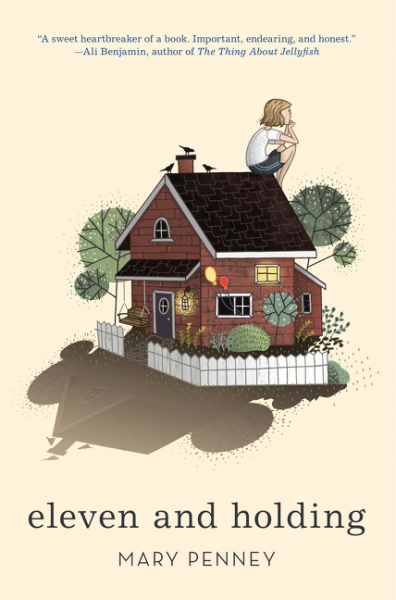 Eleven and Holding
By Mary Penney
Published by HarperCollins Publishers
Age Range: 8 – 12 Years
Macy Hollinquest is eleven years old, and don't count on her to change that anytime soon. Her birthday is just days away, but she has no intention of turning twelve without her dad by her side. He'd promised to be there for her big day, and yet he's been gone for months—away after his discharge from the army, doing some kind of top secret, "important work."
So Macy's staying eleven, no matter what—that is, until she meets Ginger, a nice older lady who is searching for her missing dog. Ginger's dog search is the perfect cover for Macy's attempt to locate her dad. But her hunt puts her on a path to a head-on collision with the truth, where she discovers that knowing can sometimes be a heavy burden. And that change, when finally accepted, comes with an unexpected kind of grace.
Mary Penney's earnest, heartfelt story of change, loss, and new beginnings will resonate with young readers on the cusp of new beginnings, and stay in their hearts long after it's done.
"Driven by attractive, colorful characters, this tale is immersive and engaging…Lively, funny, tender without being syrupy, and full of life." —Kirkus Reviews
–
"The blend of ordinary and unexpected events is appealing. Middle graders will relate to the theme of resisting change and accepting hard truths…An emotional coming-of-age tale that will resonate with readers who appreciate contemporary, realistic, character-driven novels." —School Library Journal
FROM THE AUTHOR

What was Mary Penney's motivation to write this novel?
"Adults aren't unique to the experience of change and loss. Kids are hit especially hard by this because they simply don't have the life experience to know that they can survive it. All they know is that the bottom of their world just fell out. In Eleven and Holding I want to show my readers that change never comes empty-handed, and loss often creates a space for something wonderfully unexpected to grow." —Mary Penney