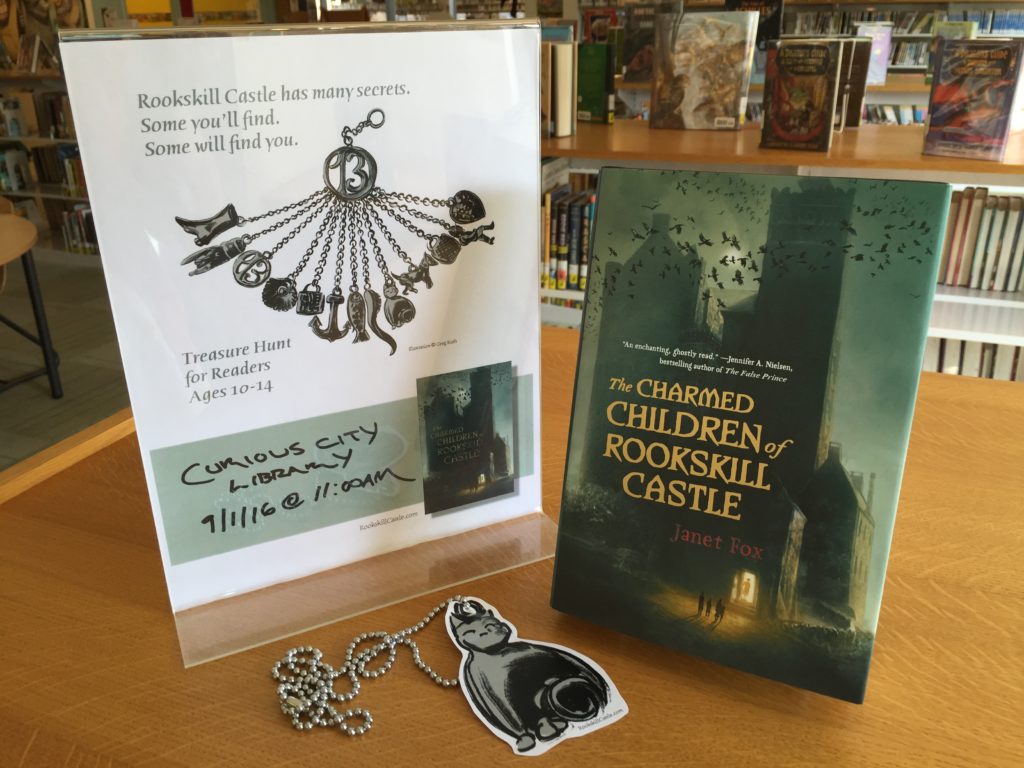 THE SECRETS OF ROOKSKILL CASTLE:
A Treasure Hunt for Readers and an
Event Kit for Libraries & Bookstores
Best Users: Public Librarians, School Librarians, Booksellers, Book Clubs
Best Audience: Children Grades 05-10
About the Kit:
Librarians, booksellers, and book clubs can use this Event Kit not only to engage readers with the mysterious literary and historical elements of the middle grade novel The Charmed Children of Rookskill Castle by Janet Fox (Viking), but also to engage readers in using the library or bookstore as a resource.  School librarians may find the kit to be a great way to introduce readers to the layout and search tools of the library at the beginning of the term.  Best for ages 10-14.
"Rookskill Castle has many secrets.  Some you'll find. Some will find you."
Something is amiss at Rookskill Castle.  For 200 years, the villagers have seen children at the castle where there are no children and have heard singing but have never seen the singers.  Who are these sad children that appear and disappear, and do they need our help?
Clever readers will work in teams to solve clues hidden within the pages of books on library and bookstore shelves.  Together the readers will discover four objects that uncover the spine-chilling secrets of Rookskill Castle and a free chapter of the novel.
This kit contains a printable poster, game instructions, sample dialogue, and printable clues, charms, and other event materials!
This slideshow requires JavaScript.
DOWNLOAD THE FREE EVENT KIT



Secrets of Rookskill Castle: Event Kit
COMPANION EVENT KIT TOOLS

CLUES:
The Clues for the game are designed to be customized by you:
Download Clues: Tim
Download Clues: Rose
Download Clues: Alice & Brigit
Download Clues: John
EVENT POSTER:
Poster template as a JPG:
Download Event Poster
COMPANION WEBSITE:
RookskillCastle.com offers many ways to engage readers:
– Surprises hide behind Charms
– Puzzles unveil an unpublished Rookskill Castle story
– Historical & literary references are explored
– An excerpt is read aloud
– Charms can be won by asking the author questions
– Discussion questions and other resources can be downloaded
ABOUT THE BOOK

The Charmed Children
of Rookskill Castle
By Janet Fox
Published by Penguin Young Readers Group
Hardcover ISBN-13: 9780451476333
Paperback ISBN-13: 9780147517135 (03/17)
Lexile: 740L
Age Range: 10 – 14 Years
"Keep calm and carry on."  That's what Katherine Bateson's father told her, and that's what she's trying to do:  when her father goes off to the war, when her mother sends Kat and her brother and sister away from London to escape the incessant bombing, even when the children arrive at Rookskill Castle, an ancient, crumbling manor on the misty Scottish highlands.
But it's hard to keep calm in the strange castle that seems haunted by ghosts or worse.  What's making those terrifying screeches and groans at night?  Why do the castle's walls seem to have a mind of their own?  And why do people seem to mysteriously appear and disappear?
Kat believes she knows the answer: Lady Eleanor, who rules Rookskill Castle, is harboring a Nazi spy. But when her classmates begin to vanish, one by one, Kat must uncover the truth about what the castle actually harbors—and who Lady Eleanor really is—before it's too late.
"An original, clever, page-turning adventure."  —Kirkus Reviews, Starred review
.
"True-to-life protagonists…. a masterful final encounter, and a satisfying denouement attest to Fox's craftsmanship."  —Publishers Weekly, Starred review
.
"Readers will curl up and keep the lights on with this chilling page-turner."
—Booklist, Starred review
.
"This gothic middle-grade novel, set in Scotland, mixes ancient magic with World War II spycraft."  —Shelf Awareness, Starred review