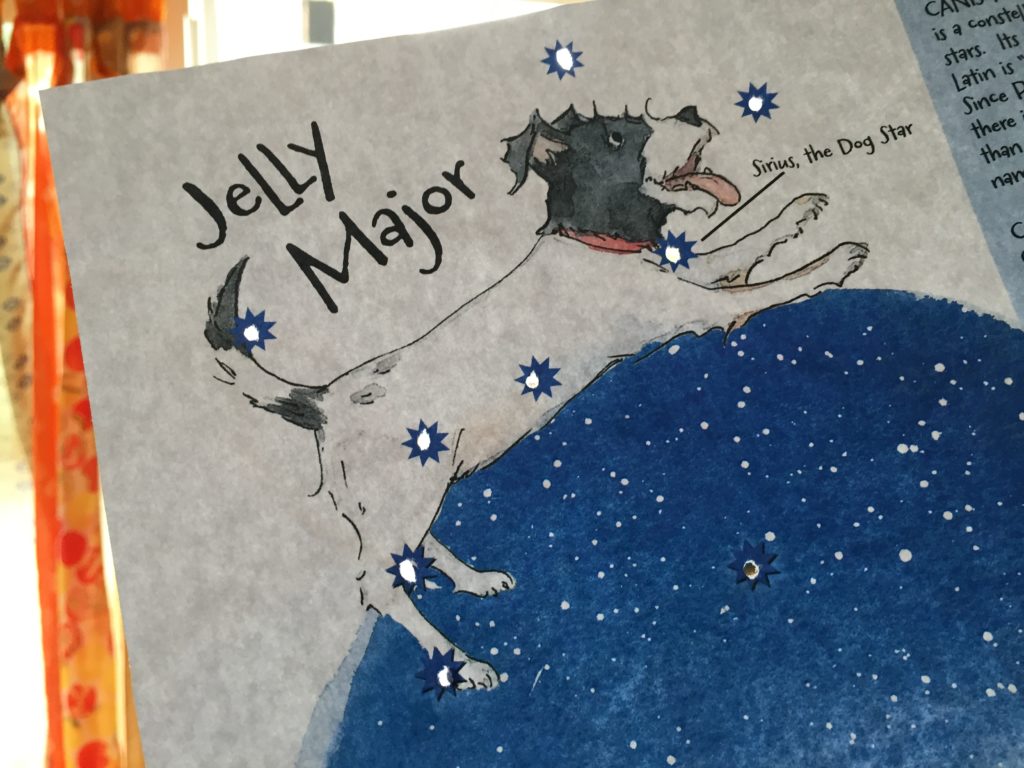 PENNY & JELLY: SLUMBER UNDER THE STARS


Stargazing Activity Sheet



Best Users:
Public Librarians, School Librarians, Booksellers, Book Clubs
Best Audience:
Children Grades 05-10
About the Activity:
Have you seen JELLY MAJOR in the night sky?  Well, Penny, the independent thinker and star of the Penny & Jelly picture book series (Houghton Mifflin Harcourt), might have made it up.  When she found out that the constellation CANIS MAJOR translated as "greater dog," she thought immediately of THE greatest dog – Jelly.
In honor of their friendship and to give your young readers a hands-on experience with the spread of the JELLY MAJOR aka CANIS MAJOR constellation, Curious City has created a simple activity sheet.
With a folded towel placed under the activity sheet, children can use a chopstick or pencil to punch out the stars. With the sheet held up to the light, children can see how the stars shine and form the shape of a dog.  Even better, encourage children to visit a dark room with the sheet and a flashlight.  If they hold the paper at arm's length in front of a wall and shine the flashlight through the stars, the constellation will appear on the wall!
Ta-da! It's JELLY MAJOR!
This slideshow requires JavaScript.
DOWNLOAD THE ACTIVITY SHEET



Penny & Jelly Stargazing Activity Sheet
ABOUT THE BOOK



Penny & Jelly:
Slumber Under the Stars
By Maria Gianferrari
Illustrated by Thyra Heder
Published by Houghton Mifflin Harcourt
ISBN-13: 9780544280052
Series: Penny & Jelly Series
Age Range: 4 – 7 Years
In this picture-book companion to Penny & Jelly: The School Show, Penny is invited to a slumber-under-the-stars sleepover! But there's one small detail that derails the dynamic kid-dog duo: no pets allowed. Penny and Jelly have to think quick—if the real Jelly can't go, then maybe a pretend Jelly can! A paper Jelly? Too rough. A yarn Jelly? Too soft. Jelly after Jelly just doesn't work. But with a little creativity and a lot of heart, Penny figures out how to go to the sleepover—and bring Jelly along with her.
Learn more about these best friends at www.pennyandjelly.com.
"The sweet ending to this book will satisfy children. The soft watercolor and ink illustrations are charming and provide young listeners with excellent visual images."
—School Library Journal
.
"A Pleasure for reading aloud."
—Booklist
.
"Another winning friendship tale from a lovable duo."
—Kirkus Reviews