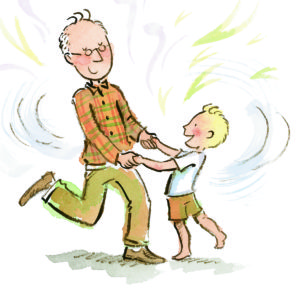 What a Beautiful Morning




STORY HOUR KIT
Best Users: Early Childhood & Elementary Educators, Librarians, Booksellers, Alzheimer's Disease and Dementia Support Groups
Best Audience: Children Grades 00-05
About the Kit:
Many in our communities struggle with dementia and Alzheimer's disease.  While the disease affects the entire family, children can feel the changes in a loved one most acutely.
How can you be a catalyst for conversation and connection?
The picture book What a Beautiful Morning by Arthur A. Levine & illustrated by Katie Kath (Running Press) explores Alzheimer's disease in a gentle, age-appropriate manner.  Be prepared to sing and celebrate the bonds of family!
This kit offers resources, activity sheets, and suggested dialogue to:
•    Partner & Advertise an Alzheimer's event for families
•    Discuss the book and Alzheimer's disease
•    Share Alzheimer's Resource sheets
•    Explore Art with children
•    Sing book-themed lyrics to Row, Row, Row Your Boat
This slideshow requires JavaScript.
"The book does a nice job of explaining some of the memory loss and confusion that can be typical of Alzheimer's, and provides age-appropriate explanations…The comprehensive toolkit takes that several steps further by discussion how the illustrator has used color to provide meaning and foreshadowing into the book."

.
—Ruth Kolb Drew, Director of Family & Information Services, Alzheimer's Association National Office
DOWNLOAD THE FREE STORY HOUR KIT



What a Beautiful Morning Story Hour Kit
Do you like to design your own event marketing materials?
Story Time Poster (JPG)
ABOUT THE BOOK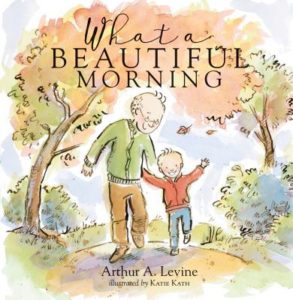 What a Beautiful Morning
By Arthur A. Levine
Illustrated by Katie Kath
Published by Running Press Kids
Hardcover Picture Book
ISBN 9780762459063
Ages 4-8
Every morning is beautiful when Noah visits his Grandparents. When Grandpa and Noah wake up, they take off singing and hardly stop: walking the dog, splashing through puddles, and eating French toast with cinnamon.  But one summer Grandpa seems to have forgotten how to do the things they love. Does he even know who Noah is? Grandma steps in energetically, filling in as best she can. But it is Noah who finds the way back to something he can share with Grandpa. Something musical. Something that makes the morning beautiful again.  This is a story about how love helps us find even what we think is lost.
This picture book was inspired by the author's own experience with his father's dementia.  Read an interview with Arthur A. Levine.
CBC list of Notable Social Studies Trade Books for Young People
.
"The message is beautifully and sensitively communicated in these gentle pages. A comforting, honest resource, ideal for little ones confronted with aging relatives."
—Booklist, Starred Review
.
"Both lovely and deeply empathetic."  —Kirkus Reviews
.
"It's a lovely, bittersweet story, and Levine carefully modulates a challenging emotional arc, offering readers just the right measure of hope."  —Publishers Weekly