Either the Beginning or End of the World




YA ENGAGEMENT RESOURCES
Best Users: Educators, Librarians, Booksellers, Cambodian American Organizations, Book Clubs, Veteran Groups
Best Users: Readers Grades 10-Adult
The Engagement Resources:
SHARE the Video / Book Trailer
LISTEN to Cambodian American Singer Bochan
DOWNLOAD Either the Beginning or End of the World: Discussion & Resource Guide. The guide includes:
— Themes
— Background: Khmer Rogue Regime
— Background: PTSD and the Cambodian Experience
— Discussion Questions
— Playlist
— Skype & Author Visit Info
— Resource: I'm Your Neighbor
EXPLORE the Author's Cultural Research, Book Lists & Other Engagement Materials
READ ABOUT Making of the Video
ABOUT THE BOOK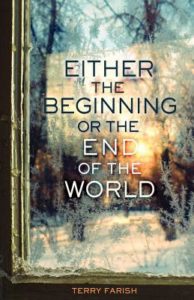 Either the Beginning
or the End of the World
By Terry Farish
Published by Carolrhoda Lab /
Lerner Publishing Group
ISBN-13:9781467774833
Lexile: HL560L
Age Range: 14 – Adult
For sixteen years, it's been just Sofie and her fisherman father living along the New Hampshire coast. Then Sofie meets Luke, an Army medic back from Afghanistan. Sofie's dad orders her to stay away from him, but the pull is too strong: they can't obey.
When her father decides to go south to find a better winter catch, he asks Sofie's estranged mother to stay with her. Sofie had been bitter at her mother's desertion, denying any part of her mother's Cambodian heritage. Now she's forced to face her family's history.
Luke and Sofie discover they both have their secrets, their ghosts, their wars. Together, they need to choose if they're at the beginning or the end.
"Beautifully written and briskly paced, the sparse prose evokes the rugged, bleak landscape, the simplicity of Sofie's former life with her Dad, and the immediate, unspoken union between her and Luke. VERDICT An excellent choice for readers seeking a less than neatly packaged love story or a glimpse into the complicated lineage of war-torn areas." —School Library Journal, Starred Review
.
"Farish has written a thoughtful and lyrical novel. Teens desiring a higher work of literature will not be disappointed while reading this. Issues of cultural identity, post traumatic stress disorder, and what defines love are addressed in this work fit for the high school and beyond audience." —VOYA
.
"Farish spins an atmospheric plot with lyrical language. Readers willing to take their time will enjoy this earnest cross-cultural meditation on love and family." —Kirkus Reviews