Mitchell on the Moon


Lightning Wand Activity




Best Users: Librarians, Booksellers, Families, Play Groups, Early Childhood Classrooms
Best Audience: Children Grades 00-02

ABOUT THE ACTIVITY




The siblings in the preschool picture book series by R.W. Alley (Clarion Books) have rather rambunctious imaginations.  In Mitchell on the Moon, when the disappearance of the moon may keep the siblings from trick-or-treating, Mitchell becomes the "Sorcerer of Space" and shoots off to the moon to see what is the matter.  In his hand, his flashlight transforms into a magical Lightning Wand.
This activity invites you to makes a wand to light the way in the dark…


Suggested Supplies:
1) Darice, 1 Piece, 80 millimeter, Clear Plastic, Fillable Ornament Ball
2) Glue
3) Paintbrush
4) Glitter
5) Creative Hobbies Tall White Plastic Candle Covers Sleeves (6 inches)
6) YazyCraft Elastic Cords White 1.8 mm 100 yards
7) Button (1" wide)
8) Fun Central I30 4 Inch Premium Glow Sticks (Assorted Colors)
ABOUT THE BOOK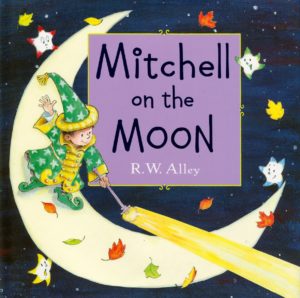 Mitchell on the Moon
By R. W. Alley
Published by Houghton Mifflin Harcourt
ISBN-13: 9780547907031
Age Range: 4 – 7 Years
It's Halloween, and Mitchell's littlest sister, Gretchen, looks up at the moon and sees that part of it is missing. Gretchen's other siblings, Annabelle and Clark, scornfully tell her that the moon is just hiding behind some clouds, but Mitchell indulges her and sets out to save the moon. A humorous and slightly scary fantasy ensues before the four children set off for trick-or-treating.
This spooky fall story joins Clark in the Deep Sea, Gretchen Over the Beach, and Annabelle at the South Pole in a four-book series that celebrates the power of imagination, created by the veteran children's book illustrator R. W. Alley.
"Alley captures the excitement, energy, and creativity of being a kid. Every page of this magical book is sure to delight kids and parents alike." —Children's Literature
.
"The plot is light and fast-paced and captures the feeling of a child's imaginary play…a quick, enjoyable read with plenty of action, bound to appeal to boys and girls alike, particularly when paired with its sister selection. The children have different hair colors but share the same pale skin tone. A rollicking Halloween adventure."


—Kirkus Reviews