THE STORY I'LL TELL


Adoption & Arrival Writing Activity

Best Users: Adoption Organizations, Early Childhood & Elementary Educators, Librarians, Booksellers, Families
Best Audience: Children Grades 00-03
About the Activity:
The Story I'll Tell opens with an adoptive mother saying to her child, "someday when you ask me where you came from, I will tell you a story."  She proceeds to tell the child's arrival story with hot air balloons, galloping horses, lanterns in the sky, dragons and more.  She concludes with a commitment to also tell her child the truth as "the truth is a beautiful story too."
In a simple writing or storytelling activity, readers (from any kind of family) are invited to tell the story of how they "arrived" in their family.  They are then asked to add fantastical elements to that arrival story.

DOWNLOAD THE WRITING ACTIVITY



The Story I'll Tell Writing Activity
(Download for Email Subscribers!)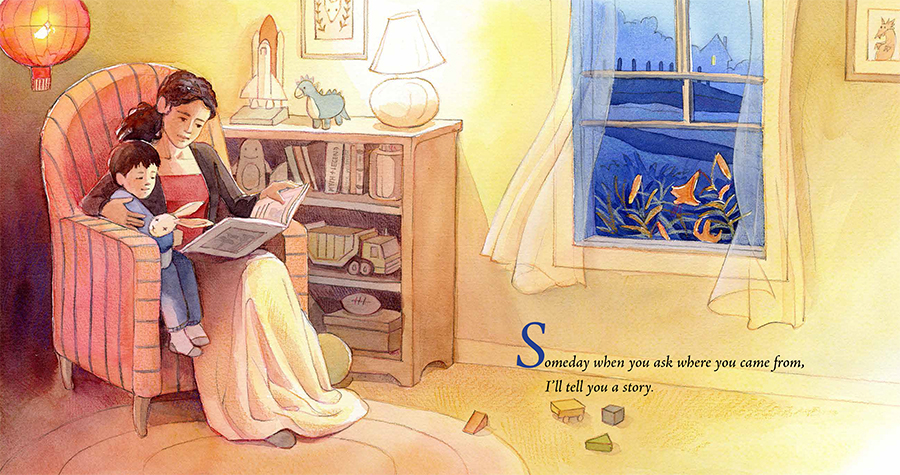 ABOUT THE BOOK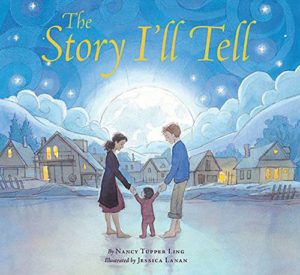 The Story I'll Tell
By Nancy Tupper Ling
Illustrated by Jessica Lanan
Published by Lee & Low Books, Inc.
ISBN-13: 9781620141601
Lexile: AD670L
Age Range 5 – 8 Years
A young child asks his mother to tell the story of where he came from. "I might tell how you came from a land far away in a hot air balloon. The basket slowly drifted down like a feather into our yard. I dropped the firewood I was carrying and ran to you. 'You're home now,' I said." Or maybe it was a lark—and not a stork—that brought the child to the mother. Or perhaps he was rescued from a dragon!
Each lyrical and fantastic tale contains a small kernel of truth that pieces together the baby's journey across a wide ocean into his new mother's arms. Beautifully illustrated by Jessica Lanan, The Story I'll Tell is a gentle and moving story of adoption and parental love that is sure to touch the hearts of readers everywhere, no matter how they came to be a family.
"Ling imagines what she would say if she could convey the excitement of her child's adoption through fantasy…Lanan's spreads match Ling's romance with pools of moonlight, banks of clouds, and ghosts of zodiac figures. It's an unabashed love letter, one that many families will treasure." —Publishers Weekly, Starred Review
.
"…should place in every library where children are present." —Children's Literature