THE NIAN MONSTER


Chinese New Year




(Or Any Time of Year)




Event Kit



Best Users: Librarians, Educators, Booksellers, Play Groups, Chinese Culture Organizations
Best Audience: Children Grades 00-03
ABOUT THE KIT
Use this kit to celebrate Chinese New Year or Chinese culture any time of the year.
In the picture book The Nian Monster, the creature of Chinese legend appears in modern Shanghai ready to devour the city.  First, though, he plans to eat young Xingling!  No worries, Xingling has a plan.  She will feed the monster three Chinese New Year culinary delights to keep him too distracted and full to eat either her or the city.
This kit gives you all the materials to create a Nian Monster Mask so that one of your colleagues can play the hungry Nian Monster with a wide-open mouth.  The kit also turns your audience into clever Xinglings, each equipped with a paper bag of "food" to "feed" the Nian Monster.  In the end, the paper bag serves as a noisemaker to send Nian Monster away for good.
An included craft allows your readers to make a Nian Monster Origami Bookmark whose open mouth can chomp down on the corner of a book to mark the page.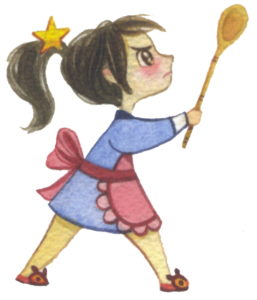 The kit contains:
— Nian Monster Mask template
— Nian Monster Protection Kit labels and ideas for contents
— Nian Monster script to include a speaking Nian Monster and active Xinglings
— Nian Monster Origami templates
— Poster and copy to share your event
— Suggested preparation & dialogue
Nian Monster Mask Assembly:
This slideshow requires JavaScript.
Nian Monster Bookmark Origami:
DOWNLOAD THE EVENT KIT



Nian Monster Event Kit (PDF)

Like to design your own event advertising?
Event Poster (JPG)

See the Event Kit in Action!
Thank you to Pragmatic Mom for the videos!





ABOUT THE BOOK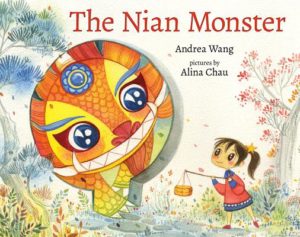 The Nian Monster
By Andrea Wang
Illustrated by Alina Chau
Published by Albert Whitman & Company
ISBN-13: 9780807556429
Lexile: AD450L
Age Range: 4 – 8 Years
Tong tong! The legendary Nian monster has returned at Chinese New Year. With horns, scales, and wide, wicked jaws, Nian is intent on devouring Shanghai, starting with Xingling! The old tricks to keep him away don't work on Nian anymore, but Xingling is clever. Will her quick thinking be enough to save the city from the Nian Monster?
"Wang's story thrills but doesn't threaten: Chau's wonderfully vivid watercolors give the monster doe eyes and a round body that make him seem like a cranky, overgrown teddy bear, and Wang shares cultural information about the Chinese New Year with the lightest of touches." —Publishers Weekly, Starred Review