African American History Month Picture Book Giveaway
We gave away 24 individual copies of The Youngest Marcher
to Educators, Librarians, and Community Organizers Serving Grades K-4.
Thank you to Atheneum Books for Young Readers!
THE BOOK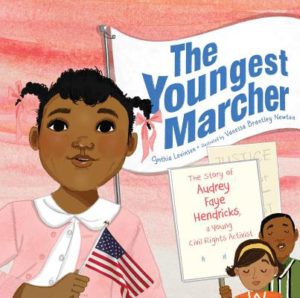 The Youngest Marcher:
The Story of Audrey Faye Hendricks, a Young Civil Rights Activist
By Cynthia Levinson
Illustrated by Vanessa Brantley Newton
Published by Atheneum Books for Young Readers
Meet the youngest known child to be arrested for a civil rights protest in Birmingham, Alabama, 1963, in this moving picture book that proves you're never too little to make a difference.
Nine-year-old Audrey Faye Hendricks intended to go places and do things like anybody else.
So when she heard grown-ups talk about wiping out Birmingham's segregation laws, she spoke up. As she listened to the preacher's words, smooth as glass, she sat up tall. And when she heard the plan—picket those white stores! March to protest those unfair laws! Fill the jails!—she stepped right up and said, I'll do it! She was going to j-a-a-il!
Audrey Faye Hendricks was confident and bold and brave as can be, and hers is the remarkable and inspiring story of one child's role in the Civil Rights Movement.
"Moving briskly through events, Levinson explains how the young Hendricks was eager to stand up to segregation, marching alongside thousands of fellow students, who were subsequently arrested. Newton's bright, digitally assembled collages adeptly highlight the danger of the situation—grim cells, barbed-wire fences, children blasted with fire hoses—while emphasizing the power of the marchers' collective efforts to push back against injustice." —Publishers Weekly
.
"Pictures and words combine to depict the discomfort of Hendricks's actual experience: loneliness, unpalatable food, angry white interrogators, and even solitary confinement. Like young Audrey, readers will be relieved when her weeklong sentence is up and she goes home to "hot rolls, baptized in butter," and the promise of a brighter future. VERDICT Simplified and sweetened, but still a significant portrayal of Audrey Faye Hendricks and the Children's March. For collections in need of history materials for the younger set."
—School Library Journal
.
"Levinson, who wrote for older readers in We've Got a Job: The 1963 Birmingham Children's March (2012), here carefully tailors her text to a level suitable for a younger audience. Newton's digital illustrations burst with color against a white background. Audrey smiles and looks fearful, as appropriate….A vivid reminder that it took a community to fight segregation and the community responded." —Kirkus Reviews
CLASSROOM MATERIALS
Explore the curriculum and primary source materials available to support the book.
THE GIVEAWAY WINNERS
Birmingham (Alabama) Public Library, Birmingham, AL
DeVargas Elementary/Cupertino Union School District, San Jose, CA
Simi Valley Elementary, Simi Valley, CA
Central Florida Education Consortium, Orlando, FL
Dacula Public Library, Dacula, GA
Gail Borden Public Library, Elgin, IL
Henderson Inclusion School, Dorchester, MA
Lewiston 21st Century, Lewiston, ME
The Roeper School, Bloomfield Hills, MI
Dobbs Elementary, Kansas City, MO
Madison County Library System, Canton, MS
Forestville Elementary, Knightdale, NC
School #54 Geo. E. Blackman ECC, Buffalo, NY
Garfield Public Schools, Garfield, Nj
Little Flower Catholic Elementary School, Rugby, ND
Imagine Clay Avenue Community School, Toledo, OH
Portland Jewish Academy, Portland, OR
Francis McClure School, White Oak, PA
Robert D. Wilson Elementary, Waymart, PA
Woodland Heights Elementary School, Spartanburg, SC
Snowden School, Memphis, TN
Manteca Elementary Library, Austin, Tx
Westminster Community Schools, Westminster, VT
Franklin Elementary, Appleton, WI