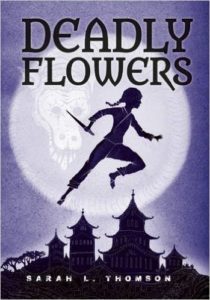 DEADLY FLOWERS




Ninja Novel Giveaway

(Closed)

We are gave away 24 individual copies to Librarians, Book Club and Community Organizers, Educators, and Booksellers Serving Grades 5-10.  Thank you to Boyds Mill Press!
Every winner also received a box of Pocky!
Deadly Flowers: A Ninja's Tale
By Sarah L. Thomson
Published by Boyds Mill Press
Hardcover ISBN-13: 9781629792149
Lexile: 750L
Age Range: 10 – 14 Years
Kata, a ninja, embarks on her first solo mission, for which she must enter a warlord's castle and make sure that a certain sleeping occupant never awakens. But then Kata discovers that her target is just a young boy (and that her new accomplice is that boy's slightly older sister), and suddenly her mission is much more complicated than she bargained for.
Faced with taking someone's life or confronting the dire consequences of failure, Kata must make a hard choice, one that leads her into a more dangerous battle than she ever expected. In this action-packed coming-of-age novel, Kata discovers that while a ninja must always act alone, humanity requires that you accept the trust and friendship of others.
NOTE: The sequel, Deadly Wish, will be published in Fall of 2017.
"Genuinely thrilling, with surprises at every turn and a solid emotional core, this is just the thing for Percy Jackson fanatics thirsty for more, more, more." —Booklist
.
"Nonstop action, interesting characters, and a journey into another time and culture make this novel worthy."
—VOYA Magazine
.
"Thomson has created heroines who are opposites yet manage to use their strengths to take control of their lives under the social restraints of their time…Edge-of-your-seat action that will have both girls and boys rooting…"
—Kirkus Reviews
THE EVENT KIT



Explore the Deadly Flowers: Ninja Game for Libraries, Book Clubs, Bookstores, and Community Groups!
GIVEAWAY WINNERS



Muir Academy, Long Beach, CA
Crystal River High School, Crystal River, FL
St. John Catholic School, Panama City, FL
Zora Neale Hurston Branch Library, Fort Pierce, FL
Camden County High School, Kingsland, GA
LaGrange Memorial Library, LaGrange, GA
Carnegie-Stout Public Library, Dubuque, IA
Lincoln Magnet School, Springfield, IL
Northwest Elementary School, Lincoln, IL
Crawfordsville Middle School, Crawfordsville, IN
NorthWood High School, Nappanee, IN
Hessen Cassel Public Library, Fort Wayne, IN
Shawnee Branch Library, Louisville, KY
Junction City Middle School, Junction City, KS
Lower Mills Branch Library, Dorchester, MA
Harford County Public Library, Havre de Grace, MD
Brewer Community School, Brewer, ME
Gilboa School, New York, NY
Hilliard City School District/ Kent State University, Kent, OH
Hilldale Public Schools, Muskogee, OK
South Carolina State Library, Columbia, SC
El Paso Public Library, El Paso, TX
Gallatin Public Library, Gallatin, TN
Moore MST Magnet School, Tyler, TX