SKATING WITH THE STATUE OF LIBERTY


Discussion Guide

Best Users: Librarians, Educators, Book Clubs
Best Audience: Children Grades 05-07
ABOUT THE GUIDE



Looking to study immigration? Looking to connect historical immigration to the current debate of who should enter the U.S.?
Author Susan Lynn Meyer's father was born the same year as Anne Frank.  Both Jewish families sought refuge in the United States during World War II.  One family was accepted and one family was denied. The paired novels Black Radishes and Skating with the Statue of Liberty (Random House) are the fictional retelling of Meyer's father's story.
In the award-winning first novel Black Radishes, Gustave and his Jewish family flee Paris and live below the French Demarcation line hoping to avoid the attention of the Nazis.
In Skating with the Statue of Liberty, Gustave and his family flee Europe, move to New York City, and negotiate immigrant life.  Having thought that he left racism behind in Nazi-occupied Europe, Gustave is troubled by the treatment of African Americans and the barriers he discovers to his growing friendship with classmate September Rose.
Skating with the Statue of Liberty lays the groundwork for classroom and book club discussions of WWII immigration, Jewish refugees, African American history, racism, welcoming, and the importance of cross-group friendship.
Working with educator, Catherine Maryse Anderson, we offer a Discussion Guide and a series of pieces to help Build Background Knowledge.
DOWNLOAD THE GUIDE & RESOURCES
Skating with the Statue of Liberty: Discussion Guide (PDF)

Read a Post by the author about being the child of a refugee
Discover Resources for teaching Black Radishes
ABOUT THE BOOK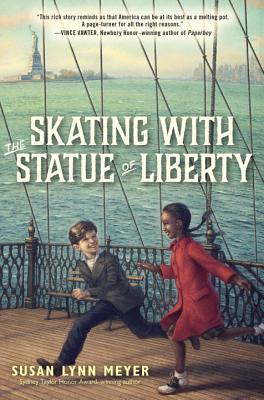 Skating with the Statue of Liberty
By Susan Lynn Meyer
Published by Random House Children's Books
ISBN-13: 9780385741552
Lexile: 710L
Age LeveL: 8 – 12 Years
In this gripping and poignant companion to Sydney Taylor Honor Award winner Black Radishes, Gustave faces racism and anti-Semitism in New York City during World War II, but ultimately finds friendship and hope.
After escaping the Germans in Nazi-occupied France, Gustave and his family have made it to America at last. But life is not easy in New York. Gustave's clothes are all wrong, he can barely speak English, and he is worried about his best friend, Marcel, who is in danger back in France. Then there is September Rose, the most interesting girl in school, who doesn't seem to want to be friends with him. Gustave is starting to notice that not everyone in America is treated equally, and his new country isn't everything he'd expected. But he isn't giving up.
A Junior Library Guild Selection
.
"The everyday details of the story guide readers, allowing them to enjoy following Gustave's entry into the United States and his growth toward appreciating all that's ahead for him in his new home. . . . Strong historical content, rich descriptions, and smart subtleties about the links between history and current events."
—School Library Journal
.
"Readers may gradually start to think of the characters as close friends…The conflict might feel like it's happening to people the readers have always known. A sweet book that readers will find sneaks up on them."
—Kirkus Reviews
.
"Well paced with fully realized characters, this provides a textured look at race, refugees, war, and the process of creating a new life."
—Booklist