ESCARGOT:
Story Hour Kit

Best Users: Librarians, Booksellers, Educators, Early Childhood Educators
Best Audience: Children Grades 00-03
ABOUT THE GUIDE



Bonjour!  Use this trés magnifique kit in an early childhood or elementary classroom, library, or bookstore or at a child's party or play date. Best for ages 3-8.
In this interactive picture book, a charming French snail talks directly to the reader. Escargot endearingly asks readers to declare that the "snail" is their favorite animal. After reviewing his many fabulous features, Escargot races the reader to the end of the book where a delicious salad awaits.  Once readers have joined the snail in making fierce faces at invasive carrots, they will have no doubt who their new favorite animal is.
With the activities in this Story Hour Kit, your readers can do finger play with you, wear some snail tentacles (topped with a beret), make a snail standee to race other readers to the lovely salad, and take home some snail facts.
The kit contains:
— Poster and copy to share your event
— Suggested preparation
— Finger play
— Snail tentacle template
— Snail racer template
— STEM snail fact sheet
This slideshow requires JavaScript.
DOWNLOAD THE STORY HOUR KIT

Escargot Story Hour Kit (PDF)
Like to design your own posters?
Download Poster (JPG)
ABOUT THE BOOK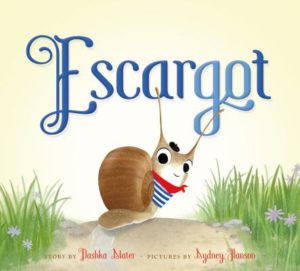 Escargot
By Dashka Slater
Illustrated by Sydney Hanson
Published by Farrar, Straus and Giroux
ISBN-13: 9780374302818
Age Range: 4 – 6 Years
Bonjour! Escargot is a beautiful French snail who wants only two things:
1. To be your favorite animal.
2. To get to the delicious salad at the end of the book.
But when he gets to the salad, he discovers that there's a carrot in it. And Escargot hates carrots. But when he finally tries one—with a little help from you!—he discovers that it's not so bad after all.
"Escargot's voice is parfait, an airy blend of ego and need masterfully balanced in witty and well-turned sentences that leave plenty of room for audiences to get the joke…Trim, controlled pencil and watercolor art gives Escargot the inevitable French sailor's shirt, neckerchief, and teeny beret, but the jaunty guy's wide, sincere eyes reveal the depth of his yearning snail soul—and make for some great comic faces."
—BCCB, Starred Review
.
"Say bonjour to your new favorite animal, the garden snail!…In Hanson's soft, cartoonish illustrations, Escargot's hammy expressions are perfectly in keeping with his gently boastful narrative. Give this charming read-aloud a little extra joie de vivre by reading it in your best French accent." —Booklist
.
"A charming little French snail takes center stage as it entices a child to share a meal. It's hard to imagine an escargot heading toward a salad as destined to be anything other than part of the dish, but this engaging snail upends convention…An unusual, tongue-in-cheek aid to getting children to eat a disliked food—even the dreaded carrot."
—Kirkus Reviews
.
"Escargot is an adorable French snail trying to reach the salad at the end of the book. He admires himself and his shiny trail as he moves across the table to the salad. He hopes it has no carrots, because he really does not like carrots. Fun illustrations and a charming story make this a picture book for everyone to enjoy!"   
—Cathy Berner, Blue Willow Bookshop, Spring 2017 Kids' Indie Next List