IF I WERE A KANGAROO :
Sleepy STEM Story Hour Kit

Best Users: Librarians, Booksellers, Educators, Early Childhood Educators, Play Groups
Best Audience: Children Grades 00-03
ABOUT THE GUIDE



The rhymes in If I Were a Kangaroo by Mylisa Larsen and illustrated by Anna Raff (Penguin) celebrate the sleeping behavior of nine animals.  While the text can be read to the very youngest, the animal behaviors are well-researched and the back matter expands on the fascinating sleepy habits of mothers and young.
The kit offers opportunities to introduce STEM to babies and toddlers and to school-age children with a series of Sleepy STEM Cards and story time talking points.
The kit contains:
— Poster and copy to share your event
— Suggested preparation
— Interactive caregiver/child actions
— Sleep tips for older children
— STEM talking points
— STEM fact and coloring cards


This slideshow requires JavaScript.
DOWNLOAD THE STORY HOUR KIT

If I Were a Kangaroo: Story Hour Kit (PDF)
While the overall kit contains these cards,
you may have need of them separately:
Sleepy STEM Cards: Families (PDF)
Sleepy STEM Cards: School-Age Children (PDF)
Like to design your own posters?
Download Poster (JPG)
ABOUT THE BOOK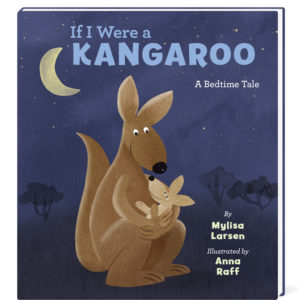 If I Were a Kangaroo:
A Bedtime Tale
By Mylisa Larsen
Illustrated by Anna Raff
Published by Penguin Young Readers Group
ISBN-13: 9780451469588
Age Range: 3 Months to 3 Years
It's time for sleep, and this fun-to-read rhyming tale envisions the bedtime rituals of animals from whales to otters, squirrels to gorillas.
So curl up, imagine your favorite animal, and…zzzzzzzzzzz.
"A sweet bedtime tale about various animals drifting off to sleep with their young. In addition to the titular kangaroo, there are giraffes, chickens, squirrels, bats, sea otters, gorillas, and more. For example, "If I were a giant whale,/I'd sing you songs—slow epic tales./Fin to fin, down in the deep./We'd drift together into sleep." Readers will enjoy the gentle rhyming flow of the text. Raff's illustrations are soothing, done in jewel tones on minimal backdrops…The animals are expressive and charming, making this selection perfect for bedtime and one-on-one sharing."
—School Library Journal
.
"…Bound to appeal to young animal lovers, this brief survey of animal habits shows that chicks, squirrels, giraffes, bats, otters, spiders, and gorillas all have their own special sleep styles and habits, which are presented poetically in the text as well as in brief scientific detail at the book's end. Digitally enhanced ink-and-pencil artwork shows young animals preparing for sleep in their own particular ways, while the gentle rhymes and rhythms of the text form a sort of lullaby…A warm, comforting tale with interesting facts appended."
—Kirkus Reviews