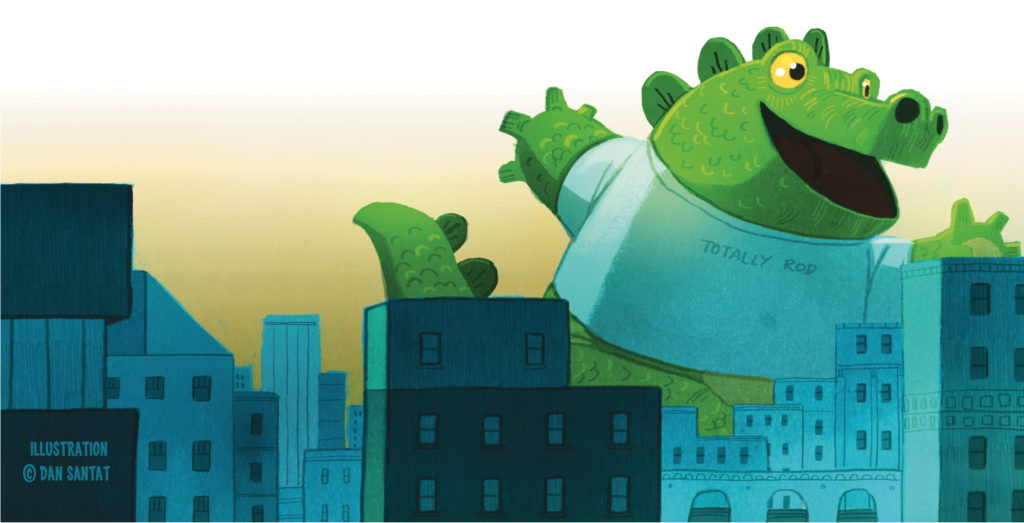 RODZILLA: Story Hour Kit

Best Users: Librarians, Booksellers, Educators, Early Childhood Educators, Play Groups
Best Audience: Children Grades 00-03
ABOUT THE GUIDE



The picture book Rodzilla by Rob Sanders and illustrated by Dan Santat (Simon & Schuster) opens with a Godzilla-like attack on the city of Megalopolis.  It ends with the realization that Rodzilla is actually the toddler Rod laying waste to a city of toys and leaving a trail of goo that every parent or older sibling will recognize.  With the kit, you can turn your readers into Rodzilla with a mask and a miniature paper bus to clutch in their monster claws. Readers can replicate Rodzilla's "goo" with a non-toxic slime recipe to take home.
The kit contains:
— Poster and copy to share your event
— Suggested preparation
— Cut-out mask template
— Cut-and-fold bus template
— Slime recipe (best for over age 4)
This slideshow requires JavaScript.
DOWNLOAD THE STORY HOUR KIT

Rodzilla: Story Hour Kit (PDF)
Like to design your own posters?
Download Poster (JPG)

OTHER RESOURCES

Rodzilla: Teacher's Guide by Marcie Colleen (PDF)
ABOUT THE BOOK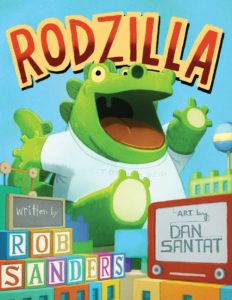 Rodzilla
By Rob Sanders
Illustrated by Dan Santat
Published by Margaret K. McElderry Books/Simon & Schuster
ISBN-13: 9781481457798
Age Range: 4 – 8 Years
This just in! There's a Rodzilla on the loose! Is he a monster…or just your typical toddler? Tune in for the full report in this riotous picture book from Rob Sanders and Caldecott Medalist Dan Santat.
Rodzilla is the mightiest toddler to ever roam the streets of the city. Marvel at the sight of his chubby monstrosity. Gaze at his toothless grin. Take a whiff of his…no, don't do that. Only a mother could love such a creature.
Rodzilla is taking over the city (that is really his playpen) and causing all sorts of chaos for its inhabitants (um, his parents). Can he be stopped before he toddles one step too far? Told as an action-packed news report, kids will love following Rodzilla on his mighty tear through the city, and ultimately back to his parents' arms. Because sometimes even monsters need a little help.


"Sanders's sendup of a rampaging toddler is both cute and gross—kind of like toddlers themselves…Sanders's faux horror and Santat's exuberant, richly colored spreads pour on the mayhem. Don't read this aloud anywhere kids are expected to stay quiet."
—Publishers Weekly
.
"Kids will gravitate to Santat's marvelously clever and animated illustrations; they capture perfectly the changing emotions of Rodzilla, and the expressions on the faces of the fleeing civilians (later revealed to be just toys) are hysterical and priceless. The vibrant colors are just right for the story of a toddler/monster who is alternatively destructive and tearful. VERDICT An engaging and humorous picture book for young children and their parents to share together."
—School Library Journal
.
"Young listeners will enjoy the story's over-the-top humor, while slightly older kids will have fun matching the Megalopolis sites with Rod's toys."
—Booklist
.
"It's a dinosaur! It's a toddler!…Santat's watercolor, pencil, and digital art is cinematic in its play with perspective, and it makes the most of the scenes' chaos….Older siblings will find much to identify with."
—Kirkus Reviews