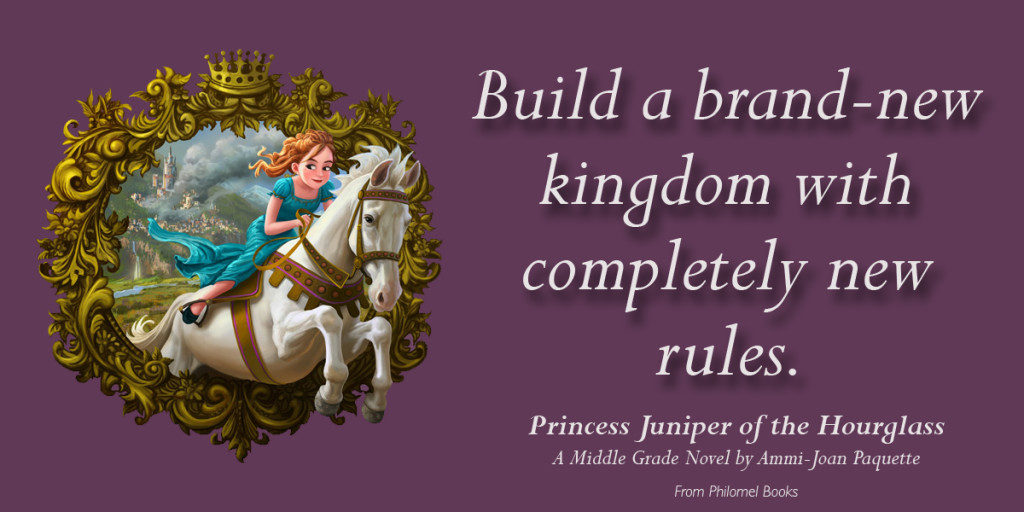 In honor of the "Build a Better World"
CSLP Summer Reading Theme…
THE FINAL BOOK IN THIS GIRL EMPOWERMENT,
WORLD-BUILDING SERIES WAS CELEBRATED

12 individual copies were given away to educators,
librarians, and literacy organizations thanks to Penguin!
ABOUT THE BOOK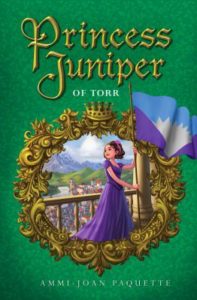 Princess Juniper of Torr
Series: Princess Juniper Series
By Ammi-Joan Paquette
Published by Penguin Young Readers Group
ISBN-13: 9780399171536
Lexile: 830L
Age Range: 8 – 12 Years
Adventure abounds in this finale featuring Princess Juniper, who—with the help of friends, secret spy cats, and even a dragon—is the only one who just might be able to save her father, the palace, and their whole country!
Princess Juniper might have conquered her challenges up in the Hourglass Mountains, but back home in Torr, chaos reigns. The castle has been invaded. Juniper's father, King Regis, is behind bars. And all his loyal subjects are imprisoned along with him. Juniper and her friends must find a way to rescue their kingdom! But how?
With tricks and spies, secrets and lies piling up at every turn, the friends are in more danger than ever. But Juniper won't let that stop her! As Crown Princess, it's up to her to lead the way and figure out how to save her home and her father. Will the small army from Queen's Basin be enough to outwit the enemy? Or will Torr Castle fall and be lost forever—and the country along with it?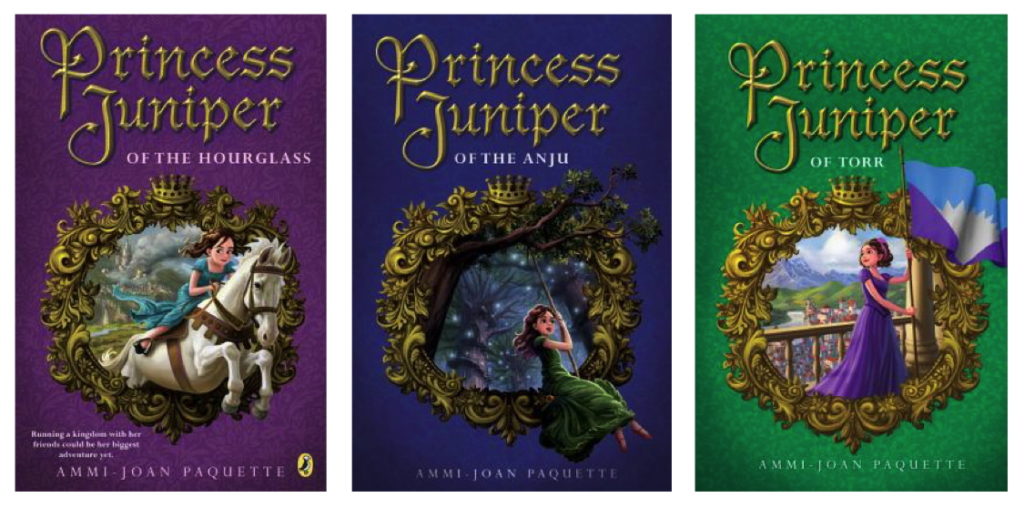 "An exciting conclusion to a strong, smart princess series. Readers of the previous volumes will be hankering for the ending, and those who are new will want to start at the beginning to get the full story." —School Library Journal
.
Praise for the Princess Juniper series:

"Full of princesses and dragons, the latest volume in this series offers adventure that will set readers' hearts racing and put smiles on their faces." —School Library Journal
.
"A gently adventurous and luxuriously detailed romp." —Kirkus Reviews
.
"With elements from William Golding's The Lord of the Flies and Paul Fleischman's Weslandia, this story can be enjoyed by those who love princess stories and adventure tales….A rollicking tale that will please a wide range of readers." —School Library Journal
.
"This…dramatic and humorous novel…involves some entertaining twists and paves the way for more lighthearted intrigue ahead." —Publishers Weekly
.
"Paquette takes young readers gently by the hand into the adult world of responsibility, danger, and the unknown. The fully developed cast of characters is engaging, and readers will cheer the conclusion and happily await Juniper's further adventures." —Booklist
DOWNLOAD THE BOOK CLUB KIT




TO GET READERS STARTED ON THE SERIES



From the discussion questions to the leadership activities in the "Princess Juniper's Guide to Building a Country or, How to be a Leader Through Sound Thinking, Strong Relationships, and the Art of Making Mistakes," readers are asked to compare their experiences to that of the intrepid princess and to imagine a kingdom (or real-world scenario) where they, too, could make a difference. Best for ages 8-13.
View, Download & Print Princess Juniper Book Club Kit

Included in the Book Club Kit are 2 items you might like separately:
View, Download & Print Princess Juniper Discussion Questions
View, Download & Print Princess Juniper Leadership Activities
THE GIVEAWAY WINNERS



Berlin-Peck Memorial Library, Berlin, CT
Drewry Mason Elementary School, Ridgewa, A
E.G. Fisher Public Library, Athens, TN
East Wake School, Wendell, NC
Enos Elementary, Springfield, IL
Evergreen Park Public Library, Evergreen Park, IL
Kirtland Public Library, Kirtland, OH
Kurth Memorial library, Lufkin, TX
Marsh Grammar School, Methuen, MA
Roy A. Hunt Elementary School, Arnold, PA
V. B. Glencoe Charter School, Franklin, LA
Winslow Elementary School, Winslow, ME