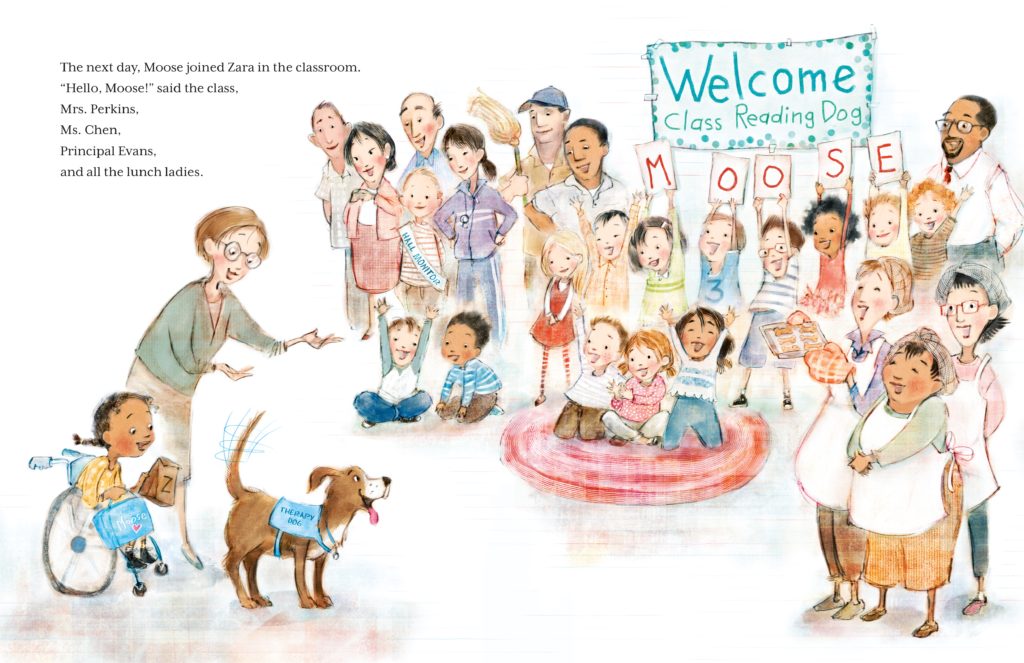 HELLO GOODBYE DOG
Picture Book Winners

20 individual copies were given away to educators, librarians, and literacy organizations thanks to Roaring Brook Press!

---
ABOUT THE BOOK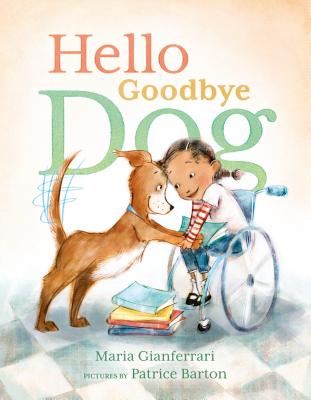 Hello Goodbye Dog
By Maria Gianferrari
Illustrated by Patrice Barton
Published by Roaring Brook Press
ISBN-13: 9781626721777
Age Range: 4 – 8 Years
For Zara's dog, Moose, nothing is more important than being with his favorite girl. So when Zara has to go to school, WHOOSH, Moose escapes and rushes to her side.
Hello, Moose!
Unfortunately, dogs aren't allowed at school and Moose has to go back home.
Goodbye, Moose.
But Moose can't be held back for long. Through a series of escalating escapes, this loyal dog always finds her way back.
"Sweet, skillfully rendered illustrations are clear, convey Moose's worldview, and depict a diverse group of people. Even the dog's expressions—forlorn when she is trapped behind the screen door, sheepish when she resists an order, triumphant when she finds her human again—are instantly recognizable and contribute to the impact of the story. VERDICT A welcome addition to any school or public library serving preschool and early elementary-age children."
—School Library Journal
.
"What could be better than a book about a dog who loves books and hates goodbyes?"
—Booklist, starred review
.
Gianferrari's dog's-eye metaphors for loneliness and Barton's expressive, energetic mixed-media illustrations highlight Moose's affection and the joy she brings to others. An author's note provides a brief description of therapy dogs as well as two websites for further information. Young children and their dogs will enjoy this cheery tale."
—Kirkus Reviews
DOWNLOAD THE ACTIVITY SHEETS

This slideshow requires JavaScript.
8.5 " x 11 " Folding Activity
Hello Goodbye Dog: Folding Activity: 8x11 B&W (PDF)
Hello Goodbye Dog: Folding Activity: 8×11 Color (PDF)
11 " x 17 " Folding Activity
Hello Goodbye Dog: Folding Activity: 11×17 B&W (PDF)
Hello Goodbye Dog: Folding Activity: 11x17 Color (PDF)

DOWNLOAD THE READING POSTER
Hello Goodbye Dog: Reading Poster (PDF)

GIVEAWAY WINNERS
Blackberry Creek Elementary, Elburn, IL
SitStayRead, Chicago, IL
MacArthur Elementary School, Cedar Lake, IN
Marsh Grammar School, Methuen, MA
Howe Memorial Library, Breckenridge, MI
Ekalaka Public Library, Ekalaka, MT
Grace Christian Academy, Boulder City, NV
North Bellmore Public Library, North Bellmore, NY
Genesee Elementary School, Auburn, NY
Rancho Village Elementary, Oklahoma City, OK
The Children's Book Bank, Portland, OR
Moore Elementary School, Bath, PA
The Vanguard School, Malvern, PA
W.T. Hanes Elementary School, Irving, TX
AV Cato Elementary School, Fort Wort, TX
Open Classroom Library, Salt Lake City, UT
Rockledge Elementary School, Woodbridge, VA
H.M. Pearson Elementary, Catlett, VA
Chippewa Falls Public Library, Chippewa Falls, WI
Missoula Public Library, Missoula, MT