School Winners of
JOE AND SPARKY, PARTY ANIMALS!

A classroom set (10 copies each) was given away to three winning elementary schools thanks to Candlewick Press!
And a BIG thank you to KidLit TV for premiering this video!
---
ABOUT THE BOOK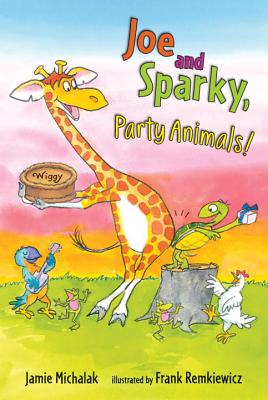 Joe and Sparky, Party Animals!
Series: Joe and Sparky Early Readers
By Jamie Michalak
Illustrated by Frank Remkiewicz
Published by Candlewick Press
ISBN-13: 9780763682064
Age Range: 5 – 9 Years
The endearingly mismatched duo has their hands full when a party for a friend goes comically awry.
One day Joe, an exuberant giraffe, hears a commotion coming from another part of the famous cageless zoo he calls home. Joined by his small, green, slightly more serious turtle friend, Sparky, Joe discovers the source of the hullabaloo: a group of children — or noisy short people, as Joe and Sparky call them — having a party. Inspired, Joe decides to throw a party for his pet worm, Wiggy. There's just one problem: Sparky is not entirely sure if Wiggy even exists! What will happen when every animal in the zoo shows up to Wiggy's party with presents and cake? Worm or no worm, this silly, satisfying tale is sure to leave new readers smiling.
"Four chapters using easy sight words make this misadventure at the "famous cageless zoo" created by Michalak and Remkiewicz a good choice for beginning readers who are ready to tackle more complex text…Generously leaded text broken up with color illustrations on each spread lighten the rather dense text. The pictures add detail and contribute to the slapstick humor (not one but two smashed birthday cakes and animals unsuccessfully dancing in a conga line). …Share this gentle story of fantasy, patience, and tolerance with new readers learning how to be true friends."
—Kirkus Reviews
DOWNLOAD THE ACTIVITY GUIDE

Joe and Sparky: Activity Guide (PDF)
Created by Candlewick Press

GIVEAWAY WINNERS

These three schools won ten books each!
Prospect Elementary, Mansfield, OH
Waterbridge Elementary School, Orlando, FL
White Street School, Springfield, MA