THE BLUE POOL OF QUESTIONS
A Picture Book for All Ages Giveaway

20 individual copies were given away to educators, librarians and community groups.  Thank you to Penny Candy Books!

---
ABOUT THE BOOK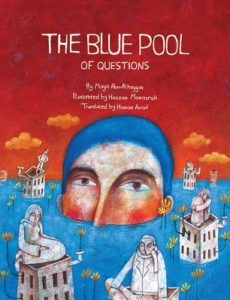 The Blue Pool of Questions
By Maya Abu-Alhayyat
Illustrated by Hassan Manasrah
Translated by Hanan Awad
Published by Penny Candy Books
Paperback ISBN-13:9780997221985
Hardcover ISBN-13: 9780998799902
A man who doesn't quite fit in arrives in a city full of busy people who don't have much time for his weird songs, flower arrangements, and especially…his questions! One day, he asks so many questions that they form a giant pool in the middle of the city that stops everyone in their tracks. The man gathers up the courage to dive into the pool looking for answers, but what will he find under all that water? Through award-winning illustrations and poetic language, this tale underscores the importance of curiosity, the necessity of 
asking questions, and the courage required 
to break free from the status quo.
Winner of a 2016 Etisalat Award for Arabic Children's Literature
.
"From Palestinian writer Abu-Alhayyat comes a lyrical tale of a strange man who is rejected by the people of the city but finds comfort in his curiosity…Readers are encouraged "to ask more questions, throw them into the blue pool, be brave, and dive in." The overt moral on the final page takes the tale in the direction of a legend, a tidy ending for this otherwise unusual story. Deliciously confounding and deeply moving, this book is a work of art in pictures and words for adults and children alike."
—Kirkus Reviews
.
"Originally published by the Palestine Writing Workshop, this 2016 winner (for illustration) of the Etisalat Award for Arabic Children's Literature tells an elliptical, allegorical story of a lonely man whose many questions set him apart from a busy world with no time for them…Manasrah's richly multilayered illustrations mesh gracefully with Abu-Alhayyat abstract writing in a haunting meditation on one man's search for belonging and meaning." —Publishers Weekly
DOWNLOAD THE GUIDE
The Blue Pool of Questions: Classroom & Community Guide (PDF)

THE GIVEAWAY WINNERS

Avoca Central School, Avoca, NY
Bernard Zell Anshe Emet Day School, Chicago, IL
Calvert Catholic School, Tiffin,OH
Chippewa Falls Public Library, Chippewa Falls, WI
Cordova Elementary Library, Cordova, TN
Cupertino Union School District, San Jose, CA
Francis McClure School, White Oak, PA
Hopewell High School, Hopewell, VA
LaBelle Middle School, LaBelle, FL
McKinley Library, Tulsa, OK
Orchard Primary, Almon, MI
Public Library of Westland, Westland, MI
Royal Elementary School, Louisburg, NC
San Lorenzo Unified, San Lorenzo, CA
Sunkist School, Pt. Hueneme, CA
Texas Woman's University Libraries, Denton, TX
Thomas Memorial Library, Cape Elizabeth, ME
Turnagain Elementary School, Anchorage, AK
William Watson Elementary School, Surrey, BC