THE BLUE POOL OF QUESTIONS
Guide to Classroom
& Community Conversations

Best Users: Librarians, Booksellers, Educators, Community Groups
Best Audience: Children Grades 02-12

ABOUT THE ACTIVITY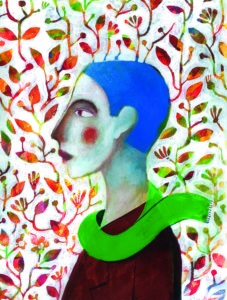 The Blue Pool of Questions (Penny Candy Books) is an award-winning illustrated book for all ages.  In the tale, a man asks so many big questions that his questions form a pool that grows to the size of an ocean.  That pool strands the people who like "everyday answers" and have forgotten "what questions look like."  The man, however, cannot look away from his questions and chooses to dive into the pool and live deep in his own curiosity.
"Maya Abu-Alhayyat's haunting, evocative text and Hassan Manasrah's exquisitely gorgeous art combine to make a book worth holding very close…Children, who carry the most wonderful questions of all, will not be confounded that this book actually does not ask a single one. It respects that you will have your own."
—Naomi Shihab Nye, acclaimed poet & author of Jane Addams Children's Book Award winner, Habibi and The Turtle of Oman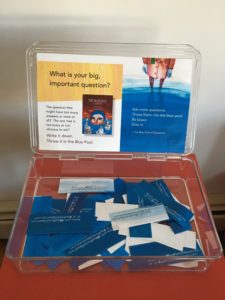 The activity should inspire your readers (students, patrons, and/or community) to ask the big questions. Whether their questions are personal, philosophical, political, or seemingly impossible, the activity invites them simply to ask.
There are blue slips of paper provided in this kit.  If your readers' questions are written on these blue slips and collected in a clear container, the "pool of questions" grows deeper and deeper with every question asked.  This visual pays tribute to the story, but also demonstrates the power of a community coming together to exhibit curiosity.
Penny Candy Books is also building a "blue pool of questions" at BluePoolofQuestions.com.  There, questions can be asked in an online form and then appear in the pool.  Questions are being asked by readers of all ages from all over the world.  The questions your community asks can be added into that larger pool at BluePoolofQuestions.com.
DOWNLOAD THE GUIDE
The Blue Pool of Questions: Classroom & Community Guide (PDF)
EXPLORE the international collection of questions gathering in the Blue Pool.
Like to design your own posters?
DOWNLOAD the poster template (.jpg)

ABOUT THE BOOK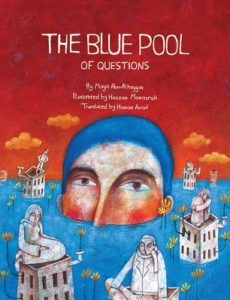 The Blue Pool of Questions
By Maya Abu-Alhayyat
Illustrated by Hassan Manasrah
Translated by Hanan Awad
Published by Penny Candy Books
Paperback ISBN-13:9780997221985
Hardcover ISBN-13: 9780998799902
A man who doesn't quite fit in arrives in a city full of busy people who don't have much time for his weird songs, flower arrangements, and especially…his questions! One day, he asks so many questions that they form a giant pool in the middle of the city that stops everyone in their tracks. The man gathers up the courage to dive into the pool looking for answers, but what will he find under all that water? Through award-winning illustrations and poetic language, this tale underscores the importance of curiosity, the necessity of 
asking questions, and the courage required 
to break free from the status quo.
Winner of a 2016 Etisalat Award for Arabic Children's Literature
.
"From Palestinian writer Abu-Alhayyat comes a lyrical tale of a strange man who is rejected by the people of the city but finds comfort in his curiosity…Readers are encouraged "to ask more questions, throw them into the blue pool, be brave, and dive in." The overt moral on the final page takes the tale in the direction of a legend, a tidy ending for this otherwise unusual story. Deliciously confounding and deeply moving, this book is a work of art in pictures and words for adults and children alike."
—Kirkus Reviews
.
"Originally published by the Palestine Writing Workshop, this 2016 winner (for illustration) of the Etisalat Award for Arabic Children's Literature tells an elliptical, allegorical story of a lonely man whose many questions set him apart from a busy world with no time for them…Manasrah's richly multilayered illustrations mesh gracefully with Abu-Alhayyat abstract writing in a haunting meditation on one man's search for belonging and meaning."  —Publishers Weekly