STRONG AS SANDOW
Fitness Video and Lesson Plans
Best Users: Librarians, Physical Education Teachers, Educators
Best Audience: Children Grades 01-04

EXPLORE THE VIDEO & LESSON PLANS



"Sparked by his own passion for bodybuilding and physical fitness, Tate recounts the story of Eugen Sandow (1867–1925) in this inspirational picture book."
—School Library Journal, STARRED REVIEW
Curious City spent two days interviewing and filming author/illustrator Don Tate's "nothing in moderation" approach to picture book making and physical fitness. Both passions came together in the biography of the "strongest man on earth."
Share with your Physical Education partners and see what literacy and fitness connections you can create together!


Watch & Share on YouTube
Watch & Share on TeacherTube

Discussion Questions
Explore the discussion guide created by Charlesbridge Publishing.
DOWNLOAD Strong as Sandow: Discussion Guide (PDF)
Educator's Guide
Explore the guide created by educator Debbie Gonsalves including a weekly fitness plan inspired by the book.
DOWNLOAD Strong as Sandow: Educator's Guide (PDF)

ABOUT THE BOOK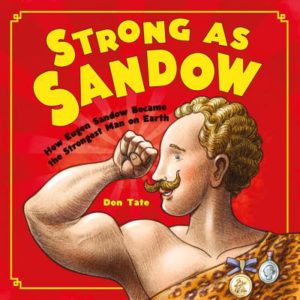 Strong as Sandow: How Eugen Sandow Became the Strongest Man on Earth
By Don Tate
Illustrated by Don Tate
Published by Charlesbridge
ISBN-13: 9781580896283
Age Range: 6 – 9 Years
Little Friedrich Müller was a puny weakling who longed to be athletic and strong like the ancient Roman gladiators. He exercised and exercised. But he to no avail.
As a young man, he found himself under the tutelage of a professional body builder. Friedrich worked and worked. He changed his name to Eugen Sandow and he got bigger and stronger. Everyone wanted to become "as strong as Sandow."
Inspired by his own experiences body-building, Don Tate tells the story of how Eugen Sandow changed the way people think about strength and exercise and made it a part of everyday life.
Backmatter includes more information about Sandow, suggestions for exercise, an author's note, and a bibliography.
"Tate argues that Sandow was more than just a strongman; that his attention to both mind and body inspired the people of his time—and can inspire people today—to devote "more attention to their own health." The digital illustrations—rendered in a gentle, textured black outline housing a warm color palette—show an approachable version of the athlete."
—Horn Book, STARRED REVIEW
.
"Tate's mixed-media illustrations feature characters, especially Sandow, with oversize, highly expressive faces. The muted colors are appropriate to the historical setting. The artwork is chock-full of humorous, cartoonish details that greatly enhance the story. In the afterword, Tate provides additional biographical information on both Sandow and himself. He includes a few simple exercises for kids and a well-developed bibliography…An excellent introduction to a historical figure that will appeal not only to children already interested in sports and fitness but also to those in need of encouragement"
—School Library Journal, STARRED REVIEW
.
"The grunting, hefting, and posing are presented here with a liberal helping of humor, and if viewers aren't rolling on the floor over the early twentieth century body-builder's costumes, they will be over Sandow's own stint as a life model in an art studio. As engaging as Sandow's story is, endnotes command equal attention, particularly the historical follow-up in the afterword and tate's own body-building interests and experience (complete with photograph) in the author's note."
—BCCB
.
"Both Tate's narrative and colorful illustrations reveal his own personal experience in the bodybuilding arena and his respect for Sandow's lifelong goal. Throughout his life, he perfected his physique and the larger-than-life persona that accompanied it, but Tate's measured biography doesn't shy away from the imperfect aspects of Sandow's personality."
—Booklist
.
"Don Tate, who used to be a bodybuilder himself, treats the exceptional life of Eugen Sandow with appreciation and respect while making sure to note in the ample back matter that much of what people today know about Sandow came from the man himself—a man who constantly sought perfection and sometimes stretched the truth. Tate's biography of one of the first international sports stars is welcoming to the young reader with approachable text and rich digital illustrations. And, for the budding athlete, there is even a page that teaches different strength building exercises."
—Shelf Awareness