What chapter book, nonfiction book, or novel has changed your readers? What book could they not put down?
What 2017 novels or nonfiction did you turn to again and again?
Curious City boldly declares their 2017 "Besties" — children's books that have been our best friends this fine KidLit year!

(Look for the Besties Awards for ages 4-8 here!)

Image © Yuko Shimizu from A Crack in the Sea (Penguin)

---
Best Breaking of Gender Barriers (Using a Giant Hammer)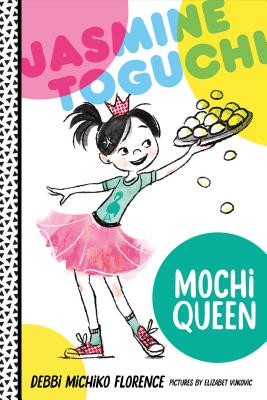 Jasmine Toguchi, Mochi Queen
Series: Jasmine Toguchi Series , #1
By Debbi Michiko Florence
Illustrated by Elizabet Vukovic
Published by Farrar, Straus and Giroux
Hardcover & Paperback
ISBN-13: 9780374304102
Age Range: 6 – 9 Years
Eight-year-old Jasmine Toguchi is a flamingo fan, tree climber, and top-notch mess-maker!
She's also tired of her big sister, Sophie, always getting to do things first. For once, Jasmine wishes SHE could do something before Sophie—something special, something different. The New Year approaches, and as the Toguchi family gathers in Los Angeles to celebrate, Jasmine is jealous that her sister gets to help roll mochi balls by hand with the women. Her mom says that Jasmine is still too young to join in, so she hatches a plan to help the men pound the mochi rice instead. Surely her sister has never done THAT before.
But pounding mochi is traditionally reserved for boys. And the mochi hammer is heavier than it looks. Can Jasmine build her case and her mochi-making muscles in time for New Year's Day?

EXPLORE & DOWNLOAD THE ACTIVITIES
Look for a series of activities for the classroom, book clubs, and individual readers here.

---
Best Submersion in Curiosity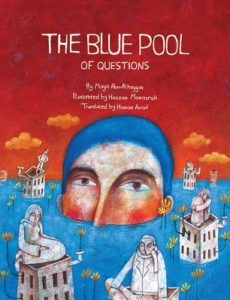 The Blue Pool of Questions
By Maya Abu-Alhayyat
Illustrated by Hassan Manasrah
Translated by Hanan Awad
Published by Penny Candy Books
Paperback ISBN-13:9780997221985
Hardcover ISBN-13: 9780998799902
A man who doesn't quite fit in arrives in a city full of busy people who don't have much time for his weird songs, flower arrangements, and especially…his questions! One day, he asks so many questions that they form a giant pool in the middle of the city that stops everyone in their tracks. The man gathers up the courage to dive into the pool looking for answers, but what will he find under all that water? Through award-winning illustrations and poetic language, this tale underscores the importance of curiosity, the necessity of 
asking questions, and the courage required 
to break free from the status quo.



DOWNLOAD THE GUIDE
The Blue Pool of Questions: Classroom & Community Guide (PDF)
Join people from around the world ASKING QUESTIONS and throwing them into the BLUE POOL.

---
Best Female-Led Resistance Against Tyrannical Throne Stealer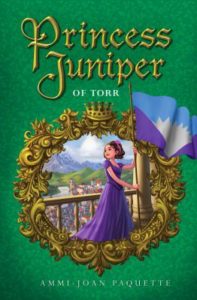 Princess Juniper of Torr
Series: Princess Juniper Series
By Ammi-Joan Paquette
Published by Penguin Young Readers Group
ISBN-13: 9780399171536
Lexile: 830L
Age Range: 8 – 12 Years
Adventure abounds in this finale featuring Princess Juniper, who—with the help of friends, secret spy cats, and even a dragon—is the only one who just might be able to save her father, the palace, and their whole country!
Princess Juniper might have conquered her challenges up in the Hourglass Mountains, but back home in Torr, chaos reigns. The castle has been invaded. Juniper's father, King Regis, is behind bars. And all his loyal subjects are imprisoned along with him. Juniper and her friends must find a way to rescue their kingdom! But how?
With tricks and spies, secrets and lies piling up at every turn, the friends are in more danger than ever. But Juniper won't let that stop her! As Crown Princess, it's up to her to lead the way and figure out how to save her home and her father. Will the small army from Queen's Basin be enough to outwit the enemy? Or will Torr Castle fall and be lost forever—and the country along with it?

DOWNLOAD THE BOOK CLUB KIT




TO GET READERS STARTED ON THE SERIES



From the discussion questions to the leadership activities in the "Princess Juniper's Guide to Building a Country or, How to be a Leader Through Sound Thinking, Strong Relationships, and the Art of Making Mistakes," readers are asked to compare their experiences to that of the intrepid princess and to imagine a kingdom (or real-world scenario) where they, too, could make a difference. Best for ages 8-13.
View, Download & Print Princess Juniper Book Club Kit

Included in the Book Club Kit are 2 items you might like separately:
View, Download & Print Princess Juniper Discussion Questions
View, Download & Print Princess Juniper Leadership Activities

---
Best Sudden Rescue (from Rats) by a Gigantic Literate Pig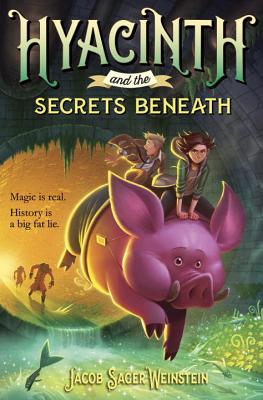 Hyacinth and the Secrets Beneath
By Jacob Sager Weinstein
Series: Hyacinth Series, #1
Published by Random House Children's Books
ISBN-13: 9780399553172
Lexile: 810L
Age Range: 8 – 12 Years
Magic is real. History is a big, fat lie.
Before Hyacinth Hayward moves from Illinois to London, she reads up on the city's history. Too bad for her. Because the books are wrong. The truth is, London was built on magical 
rivers, and all the major events in its past have been about people 
trying to control the magic. Hyacinth discovers this when her mom is kidnapped. In the chase to get her back, Hyacinth encounters a giant intelligent pig in a bathing suit, a boy with amnesia, an adorable tosher (whatever that is), a sarcastic old lady, and a very sketchy unicorn. Somehow Hyacinth has to figure out who to trust, so she can save her mom and, oh yeah, not cause a second Great Fire of London.

DOWNLOAD THE EVENT KIT

Hyacinth: Book Stack Treasure Hunt (PDF)

---
Best Blatant Lies in the Name of Science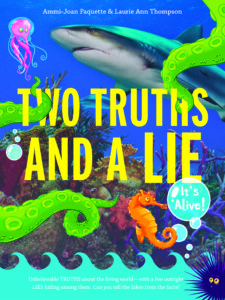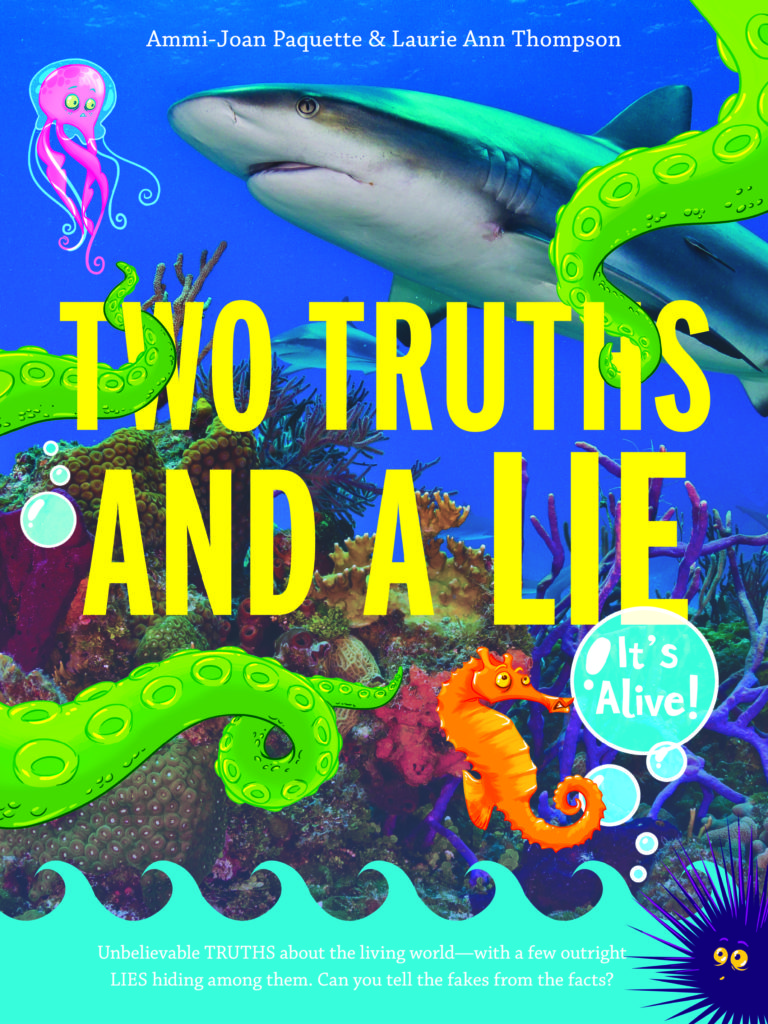 Two Truths and a Lie: It's Alive!
By Ammi-Joan Paquette
and Laurie Ann Thompson
Illustrated by Lisa K. Weber
Published by HarperCollins Publishers
ISBN-13: 9780062418791
Age Range: 8 – 12 Years
Two Truths and a Lie is the first book in a fascinating new series that presents some of the most crazy-but-true stories about the living world as well as a handful of stories that are too crazy to be true—and asks readers to separate facts from the fakes!
Did you know that there is a fungus that can control the mind of an ant and make it do its bidding? Would you believe there is such a thing as a corpse flower—a ten-foot-tall plant with a blossom that smells like a zombie? How about a species of octopus that doesn't live in water but rather lurks in trees in the Pacific Northwest?
Every story in this book is strange and astounding. But not all of them are real. Just like the old game in this book's title, two out of every three stories are completely true and one is an outright lie. Can you guess which? It's not going to be easy. Some false stories are based on truth, and some of the true stories are just plain unbelievable. And they're all accompanied by dozens of photos, maps, and illustrations. Amaze yourself and trick your friends as you sort out the fakes from the facts!
Acclaimed authors Ammi-Joan Paquette and Laurie Ann Thompson have teamed up to create a series of sneaky stories about the natural world designed to amaze, disgust, and occasionally bamboozle you.

EXPLORE STEM CARD GAME
DOWNLOAD Truth or Lie?: STEM Card Game created by award-winning STEM Coordinator and Library Media Specialist Suzanne Costner!

---
Best Survival in the Vacuum of Space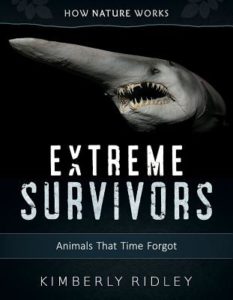 Extreme Survivors: Animals That Time Forgot
Series: How Nature Works Series
By Kimberly Ridley
Published by Tilbury House Publishers
ISBN-13: 9780884485001
Age Range: 7 – 12 Years
What do the goblin shark, horseshoe crab, the "indestructible" water bear, and a handful of other bizarre animals have in common? They are all "extreme survivors," animals that still look much like their prehistoric ancestors from millions of years ago. Meet ten amazing animals that appear to have changed little in more than 100 million years. They are the rare exceptions to the rule.More than 99 percent of all life forms have gone extinct during the 3.6-billion-year history of life on Earth. Other organisms have changed dramatically, but not our extreme survivors. Evolution may have altered their physiology and behavior, but their body plans have stood the test of time. How have these living links with Earth's prehistoric past survived? The search for answers is leading scientists to new discoveries about the past—and future—of life on Earth. The survival secrets of some of these ancient creatures could lead to new medicines and treatments for disease. Written in a lively, entertaining voice, Extreme Survivors provides detailed life histories and strange "survival secrets" of ten ancient animals and explains evolution and natural selection. Extensive back matter includes glossary, additional facts and geographic range for each organism and a geologic timeline of Earth

---
Best Icy Encounters to Explore Family and Heritage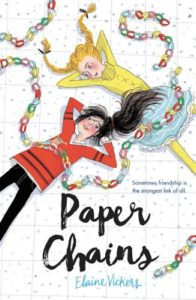 Paper Chains
By Elaine Vickers
Published by HarperCollins Publishers
ISBN-13: 9780062414342
Age Range: 8 – 12 Years
Katie and Ana are the kind of friends who share everything with each other. But there are some things you can't even share with your best friend.
Katie has always known she was adopted, but recently she's been wondering about her birth parents and her birthplace. She worries that saying this out loud—even to her best friend—could mess up the perfect family she has now.
Ana's family has been falling apart ever since her dad left, and it's up to her to hold it together. But Ana fears no matter how hard she tries, her family may never be whole again.
At a time when they need each other the most, the links between the girls are beginning to break. Before they lose each other, they must work through the tangles of secrets to the shining truth underneath: friendship, just like family, is worth fighting for.

---
Best Appearance by a Sheep on Snowshoes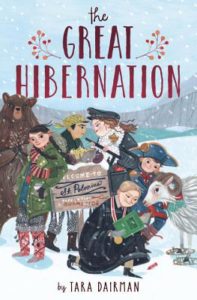 The Great Hibernation
By Tara Dairman
Published by Random House Children's Books
ISBN-13: 9781524717858
Age Range: 8 – 12 Years
The most important tradition in tiny St. Polonius is the annual Tasting of the Sacred Bear Liver. Each citizen over twelve must eat one bite of liver to prevent the recurrence of the Great Hibernation, when the town founders fell asleep for months.
This year is Jean Huddy's first time to taste the liver. It doesn't go well.
A few hours later, all the adults fall into a sleep from which they cannot be woken, and the kids are left to run things. At first, they have a blast. But then the town bullies take over the mayor's office and the police force, and pretty soon Jean begins to suspect that this "hibernation" was actually engineered by someone in town.
Courage, teamwork, and scientific smarts unlock an unusual mystery in this delightful and funny story about one girl who inspires the kids around her to join together to save their home.

---
Best Alternate History That Makes the True History All the More Tragic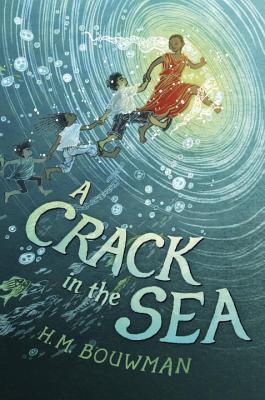 A Crack in the Sea
By H. M. Bouwman
With illustrations by Yuko Shimizu
Published by G.P. Putnam's Sons
Books for Young Readers
Ages 10+
No one comes to the Second World on purpose. The doorway between worlds opens only when least expected. The Raft King is desperate to change that by finding the doorway that will finally take him and the people of Raftworld back home. To do it, he needs Pip, a young boy with an incredible gift–he can speak to fish; and the Raft King is not above kidnapping to get what he wants. Pip's sister Kinchen, though, is determined to rescue her brother and foil the Raft King's plans.
This is but the first of three extraordinary stories that collide on the high seas of the Second World. The second story takes us back to the beginning: Venus and Swimmer are twins captured aboard a slave ship bound for Jamaica in 1781. They save themselves and others from a life of enslavement with a risky, magical plan–one that leads them from the shark-infested waters of the first world to the second. Pip and Kinchen will hear all about them before their own story is said and done. So will Thanh and his sister Sang, who we meet in 1978 on a small boat as they try to escape post-war Vietnam. But after a storm and a pirate attack, they're not sure they'll ever see shore again. What brings these three sets of siblings together on an adventure of a lifetime is a little magic, helpful sea monsters and that very special portal, A Crack in the Sea.

DOWNLOAD THE GUIDE
Crack in the Sea Guide (PDF)

---
Best Dog Escape to Strengthen a Cross-Cultural Friendship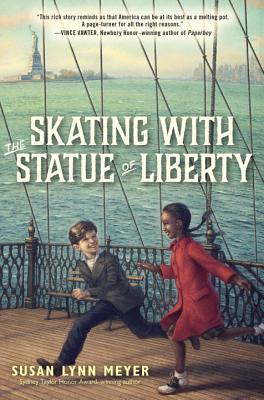 Skating with the Statue of Liberty
By Susan Lynn Meyer
Published by Random House Children's Books
ISBN-13: 9780385741552
Age Level: 8 – 12 Years
In this gripping and poignant companion to Sydney Taylor Honor Award winner Black Radishes, Gustave faces racism and anti-Semitism in New York City during World War II, but ultimately finds friendship and hope.
After escaping the Germans in Nazi-occupied France, Gustave and his family have made it to America at last. But life is not easy in New York. Gustave's clothes are all wrong, he can barely speak English, and he is worried about his best friend, Marcel, who is in danger back in France. Then there is September Rose, the most interesting girl in school, who doesn't seem to want to be friends with him. Gustave is starting to notice that not everyone in America is treated equally, and his new country isn't everything he'd expected. But he isn't giving up.

THE GUIDE & RESOURCES
Grab Skating with the Statue of Liberty: Discussion Guide

Build Background Knowledge with series of historical, resource-rich blog posts
Read a Post by the author about being the child of a refugee
Discover Resources for teaching Black Radishes

---
Best Stalking by Giant, Deadly House Cat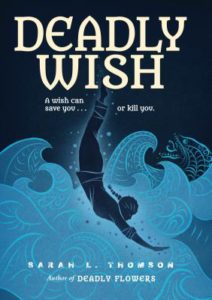 Deadly Wish: A Ninja's Journey
Series: A Ninja's Journey Series, Book 2
By Sarah L. Thomson
Published by Boyds Mill Press
ISBN-13: 9781629797779
Lexile: 870L
Age Range: 10 – 14 Years
This sequel to Deadly Flowers is a fast-paced and compelling read with a multitude of astonishing plot twists. Kata is one of the best employees of a master thief until he sells her to Madame Chiyome, the woman who trained Kata as a ninja. It turns out that Madame Chiyome has been hired by Kata's enemy, Saiko, to capture Kata and the magical pearl she possesses. But while escaping her enemies, Kata puts her trusted group of friends in danger. Should Kata stay loyal to her mission, as a true ninja would, or to her friends? Can Kata trust the fellow thief who says he is in love with her and wants to help her? The themes of trust versus independence underlie each of Kata's decisions as she tries to get the pearl out of Japan to weaken the demon within it. As Kata faces one obstacle after another, including a wide range of supernatural creatures, she is tempted to make a wish to save herself, even though could it be the last wish, the one that frees the demon and lets him take her soul. Will her sense of duty and honor prevail against all odds?

TURN YOUR LIBRARY INTO NINJA TRAINING GROUNDS

Explore the Deadly Flowers: Ninja Game for Libraries, Book Clubs, Bookstores, and Community Groups!

---
Best Rescue from War by Music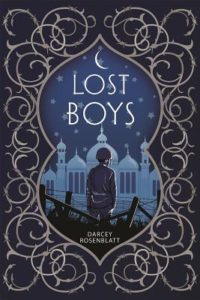 Lost Boys
By Darcey Rosenblatt
Published by Henry Holt and Co. (BYR)
ISBN-13: 9781627797580
Age Range: 9 – 12 Years
In 1982, twelve-year-old Reza has no interest in joining Iran's war effort. But in the wake of a tragedy and at his mother's urging, he decides to enlist, assured by the authorities that he will achieve paradise should he die in service to his country.
War does not bring the glory the boys of Iran have been promised, and Reza soon finds himself held in a prisoner-of-war camp in Iraq, where the guards not only threaten violence—they act upon it. Will Reza make it out alive? And if he does, will he even have a home to return to?
In this unforgettable tale of friendship and survival against the odds, Reza finds solace through music and forges his own path, wherever that might take him.

---
Best Step Behind the Rhetoric on North Korea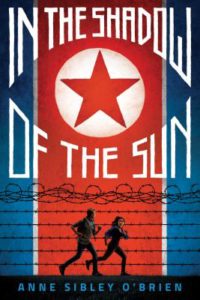 In the Shadow of the Sun
By Anne Sibley O'Brien
Published by Scholastic, Inc.
ISBN-13: 9780545905749
Age Range: 8 – 12 Years
North Korea is known as the most repressive country on Earth, with a dictatorial leader, a starving population, and harsh punishment for rebellion.
Not the best place for a family vacation.
Yet that's exactly where Mia Andrews finds herself, on a tour with her aid-worker father and fractious older brother, Simon. Mia was adopted from South Korea as a baby, and the trip raises tough questions about where she really belongs. Then her dad is arrested for spying, just as forbidden photographs of North Korean slave-labor camps fall into Mia's hands. The only way to save Dad: get the pictures out of the country. Thus Mia and Simon set off on a harrowing journey to the border, without food, money, or shelter, in a land where anyone who sees them might turn them in, and getting caught could mean prison — or worse.
An exciting adventure that offers a rare glimpse into a compelling, complicated nation, In the Shadow of the Sun is an unforgettable novel of courage and survival.



---
Best Exploration of How Race, Class, Gender & Body Type Intersect in One Astounding Human Being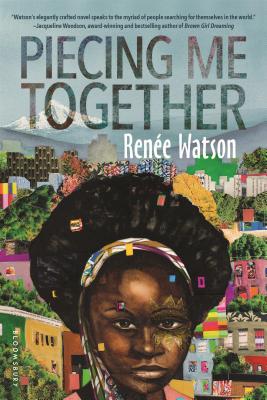 Piecing Me Together
By Renee Watson
Published by Bloomsbury USA
ISBN-13: 9781681191058
Lexile: 680L
Age Range: 12 – 17 Years
A timely and powerful story about a teen girl striving for success in a world that too often feels like it wants to break her.
Jade believes she must get out of her poor neighborhood if she's ever going to succeed. Her mother tells her to take advantage of every opportunity that comes her way. And she has. She accepted a scholarship to a mostly-white private school and even Saturday morning test prep opportunities. But some opportunities feel more demeaning than helpful. Like an invitation to join Women to Women, a mentorship program for "at-risk" girls. Except really, it's for black girls. From "bad" neighborhoods. And just because Maxine, her college-graduate mentor, is black doesn't mean she understands Jade. And maybe there are some things Jade could show these successful women about the real world and finding ways to make a real difference.

DOWNLOAD THE DISCUSSION GUIDE

Piecing Me Together Guide (PDF)

---
Best Case for Juvenile Restorative Justice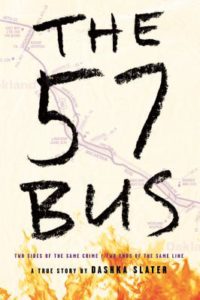 The 57 Bus: A True Story of Two Teenagers and the Crime That Changed Their Lives
By Dashka Slater
Published by Farrar, Straus and Giroux
ISBN-13: 9780374303235
Age Range: 12 – 17 Years
One teenager in a skirt.
One teenager with a lighter.
One moment that changes both of their lives forever.
If it weren't for the 57 bus, Sasha and Richard never would have met. Both were high school students from Oakland, California, one of the most diverse cities in the country, but they inhabited different worlds. Sasha, a white teen, lived in the middle-class foothills and attended a small private school. Richard, a black teen, lived in the crime-plagued flatlands and attended a large public one. Each day, their paths overlapped for a mere eight minutes. But one afternoon on the bus ride home from school, a single reckless act left Sasha severely burned, and Richard charged with two hate crimes and facing life imprisonment. The case garnered international attention, thrusting both teenagers into the spotlight.

---
Best Use of High Fructose Corn Syrup to Explain the Faults in Our Constitution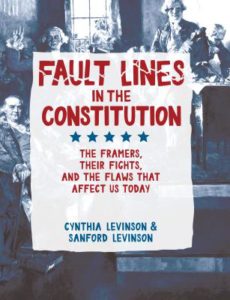 Fault Lines in the Constitution: The Framers, Their Fights, and the Flaws that Affect Us Today
By Cynthia Levinson, Sanford Levinson
Published by Peachtree Publishers, Ltd.
ISBN-13: 9781561459452
Age Range: 10 – 14 Years
Many of the political issues we struggle with today have their roots in the US Constitution.
Husband-and-wife team Cynthia and Sanford Levinson take readers back to the creation of this historic document and discuss how contemporary problems were first introduced—then they offer possible solutions. Think Electoral College, gerrymandering, even the Senate. Many of us take these features in our system for granted. But they came about through haggling in an overheated room in 1787, and we're still experiencing the ramifications.
Each chapter in this timely and thoughtful exploration of the Constitution's creation begins with a story—all but one of them true—that connects directly back to a section of the document that forms the basis of our society and government. From the award-winning team, Cynthia Levinson, children's book author, and Sanford Levinson, constitutional law scholar, Fault Lines in the Constitution will encourage exploration and discussion from young and old readers alike.