SMART COOKIE
Ingredients
Best Users: Educators, Librarians, Book Clubs, School Social Workers
Best Audience: Children Grades 04-06

EXPLORE & DOWNLOAD THE ACTIVITY



In Elly Swartz's novel Smart Cookie (Scholastic, Inc.), Gram calls the idiosyncratic Frankie a "smart cookie." No one can deny that this sixth-grader is indeed a smart cookie, from rapping Shakespeare to reluctantly ghost-hunting with her best friend to helping her father run the eclectic Greene Family B&B.
But being a smart cookie does not mean Frankie feels complete. Since the death of her mother, she feels like she is missing an important ingredient. However, as the novel unfolds, Frankie 
discovers that while her mother is gone, she has a community of friends and family that makes up her "herd."
The truth is, we're all smart cookies with herds who love and support us. Sometimes, however, that can be hard to see and even harder to feel. This activity allows readers to recognize and embrace their unique traits and community. It celebrates each reader's uniqueness and gives them a sense of their broad support group.
This activity invites readers to consider their personal idiosyncrasies as the ingredients that make them smart cookies, the very things that make them unique and special. Each reader will be given a clear plastic cup or jar labeled "Smart Cookie." They'll write down their own idiosyncrasies or ingredients on pieces of cookie-shaped paper and place them in the jar.
Readers will then brainstorm a list of the people in their life who support them — not just their family, but the whole "herd" of people who sees and honors them and all their idiosyncrasies. Those names will also be written down and dropped into the jar. As the activity wraps up, readers will be able to see a jar that holds what makes them Smart Cookies — their unique traits and their unique herd.
Smart Cookie Ingredients Activity
DOWNLOAD Smart Cookie Ingredients Activity (PDF)
Smart Cookie Educators Guide
This guide was written by the Harvard educated classroom teacher, literacy coach, English department head, and learning specialist, Anna Kontos.
DOWNLOAD Smart Cookie Educator Guide (PDF)

ABOUT THE BOOK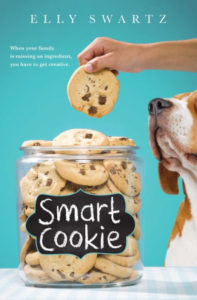 Smart Cookie
By Elly Swartz
Published by Scholastic, Inc.
Hardcover ISBN: 9781338143560
Age Range: 8 – 12 Years
Sometimes you need to keep a few secrets.
Frankie knows she'll be in big trouble if Dad discovers she secretly posted a dating profile for him online. But she's determined to find him a wife, even if she ends up grounded for life. Frankie wants what she had before Mom died. A family of three. Two is a pair of socks or the wheels on a bicycle or a busy weekend at the B&B where Frankie and Dad live. Three is a family. And Frankie's is missing a piece.
But Operation Mom is harder to pull off than Frankie expects. None of the Possibles are very momish, the B&B's guests keep canceling, Frankie's getting the silent treatment from her once best friend, and there's a maybe-ghost hanging around. Worst of all, Gram and Dad are definitely hiding secrets of their own.
If a smart cookie like Frankie wants to save the B&B and find her missing piece, she's going to have to figure out what secrets are worth keeping and when it's time to let go.
"Frankie is honest and ever hopeful as she narrates her own fast-paced tale of confusions, worries, and headlong lapses of judgment. She is fully accepting of her charmingly eccentric family and friends. All the pieces come together in the end with many surprises…Readers will laugh and commiserate and root for Frankie all the way."
—Kirkus Reviews