GROUNDED
The Adventures of Rapunzel

Best Users: Librarians, Educators, Book Clubs
Best Audience: Children Grades 03-06
In her creation of Tyme, author Megan Morrison has taken the elements of traditional European fairy tales and recast them in a rich multicultural series. In her world, Rapunzel rescues herself from the tower; Jack is not selfish or hapless, but curious and clever; Cinderella fights for workers' rights; and the dashing prince might just be an introvert.
"A beautifully described world…"
—Kirkus Reviews (starred review)
Readers will see much that they recognize, but also will find the heroines to be powerful, the heroes to be respectful partners in adventure, and many of the characters to be, refreshingly, people of color. Book Clubs and classrooms will find much to admire and discuss.

EXPLORE THE BOOK CLUB KIT
The mighty Book Club Kit contains:
— Promotional Copy: Calendar copy or invitation text
— Poster/Flyer: Customizable for dates and reading assignments
— Discussion Questions: Both chapter-by-chapter and larger discussion questions
— Sharing Food: Suggestions for snacks or pot-luck meals
— Activities: Ubiquitous acorn templates to plan a journey through Tyme, an invitation to create and share a new Tyme character with author Megan Morrison, and instructions on playing Tyme's favorite games — Jacks
DOWNLOAD Grounded: Book Club Kit (PDF)

PICK AND CHOOSE TOOLS FOR A NOVEL STUDY
Discussion Questions
Chapter-by-chapter discussion questions as well as larger questions that speak to the book's central themes of ignorance, privilege, power, diversity, curiosity, betrayal, and forgiveness.
DOWNLOAD Grounded: Discussion Questions (PDF)
Activity: Journey Through Time with Ubiquitous
The citizens and travelers of Tyme rely on the everyday magic of Ubiquitous acorns. Available at various levels of complexity and price, the acorns can be cracked to reveal anything from a hot loaf of bread to a bridge to cross a river. This activity asks readers to plan a journey through Tyme and select the Ubiquitous acorns they want in their pockets.
DOWNLOAD Grounded: Activity: Journey Through Tyme with Ubiquitous (PDF)
Activity: Playing Jacks Like an All-Tyme Champion
Rapunzel, locked in the tower by Witch for 15 years, had a lot of time to perfect her game of Jacks. Rapunzel challenges and beats the Capital Champion, winning placement in the All-Tyme Championship. Play a game of Jacks with your readers to give them a sense of just how brilliant Rapunzel is at Tyme's most prized sport.
DOWNLOAD Grounded: Activity: Play Jacks Like an All-Tyme Champion (PDF)
Activity: Twisting Fairy Tales for Tyme
The world of Tyme was built by twisting traditional European fairy tales. This activity asks readers to identify the Tyme characters they recognize from traditional fairy tales and to make a list of the characteristics that have remained the same in the Tyme stories.  Readers are also invited to alter another fairy tale character to create their own Tyme character to share with the author.
DOWNLOAD Grounded: Activity: Twisting Fairy Tales for Tyme (PDF)
Marketing: Event Poster
A Grounded poster customizable for event dates and reading assignments.
DOWNLOAD Grounded: Event Poster(JPG)
ABOUT THE BOOK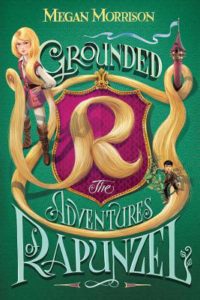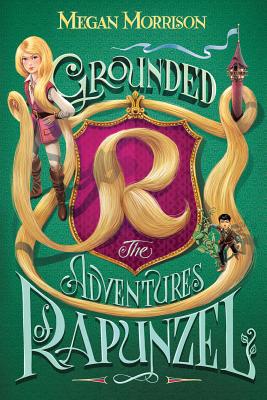 Grounded:
The Adventures of Rapunzel
Book #1 in the Tyme Series
By Megan Morrison
Published by Arthur A. Levine Books,
Scholastic Inc.
Hardcover, Paperback, eBook,
Audiobook
Ages 8+
You know about the tower, the hair, and the witch. But in the world of Tyme, they're only the beginning . . .
Rapunzel knows only her magical tower and her wonderful Witch, who guards her against evil princes far below. But when a peasant named Jack climbs into her life, Rapunzel learns that Witch is in terrible danger — and to keep her safe, she must leave her tower and journey with Jack on a quest far across Tyme. There she finds a world filled with even more peril than Witch promised . . . and more beauty, wonder, and adventure than she ever dreamed.
Grounded is the first book set in the land of Tyme — with many more tales to come.
"The novel does not miss a beat in creating Tyme, a beautifully described world with a seamless fusion of magical and nonmagical beings, scenery and objects. Although there are dark, suspenseful moments and some acts of violence, there is also plenty of humor…The characters are refreshingly three-dimensional, helping readers empathize with Rapunzel as she wrestles with universal feelings of love and betrayal…"
—Kirkus Reviews (starred review)
.
"Morrison has a deft hand with both world-building and pacing, carefully constructing the geography and various politics of the fairy-tale world of Tyme in between chase scenes, bridge collapses, narrow escapes, and bargains with all sorts of devious beings."
—The Bulletin of the Center for Children's Books (starred review)
.
"Fairy tale meets funny in this fresh take on Rapunzel… Morrison's cuttingly clever take on classic tales will please readers and keep them hungry for more. Finding out the truth behind the tale has never been so snarky."
—School Library Journal
.
"Those expecting a Disneyesque Rapunzel in Morrison's debut, first in the Tyme series, will be pleasantly surprised by the novel's emotional depth and inventiveness…  Morrison turns the idea of a naïve, sheltered princess on its head…"
—Booklist