Pygmy Marmoset


STEM STORY HOUR KIT
Best Users: Early Childhood & Elementary Educators, Librarians, Play Groups, STEM Coordinators
Best Audience: Children Grades 00-02
About the Kit:
Use this kit in an early childhood or elementary classroom, library, or bookstore or at a child's party or play date.  Best for ages 3-7
In the picture book Quick, Little Monkey! the young pygmy marmoset, Little Monkey, is told by Papa to "hold tight, hide here, and keep still" to be safe from predators.  Little Monkey does a good job until she is distracted by a butterfly and falls from her safe spot.
With the activity provided in this kit, children will get to play the role of Papa and look for lost Little Monkey.  With the cut-outs in the kit, you can hide Little Monkeys around your space for "Papas" to find.  By affixing a paper armband,
the young pygmy marmoset can ride home with your readers.
Provided talking points and a take home fact sheet allow you to insert a small amount of STEM about the world's smallest monkey.
The kit also includes a poster and copy to advertise your event!
This slideshow requires JavaScript.
DOWNLOAD THE FREE STORY HOUR KIT



Quick, Little Monkey STEM Story Hour Kit
ABOUT THE BOOK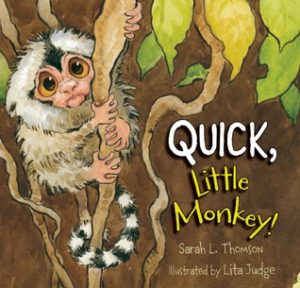 Quick, Little Monkey!
By Sarah L. Thomson
Illustrated by Lita Judge
Published by Boyds Mill Press
Age Range: 3 – 7 Years
Lexile: AD350L
When Little Monkey's curiosity causes her to slip and fall to the dark, shadowy rainforest floor, she must hide—quick!—because an ocelot is looking for lunch. Thanks to Papa, Little Monkey knows just what to do to stay safe. And thanks to her own wit and speed, she escapes. But no sooner is she safe from the ocelot than she finds herself wrapped in the coils of an emerald tree boa. This exciting adventure will enthrall readers as Little Monkey faces one challenge after another and will also teach them about the fascinating lives of pygmy marmoset monkeys, the smallest monkeys in the world.
"This fast-paced adventure in a South American forest will have readers on the edge of their seats…. The illustrations… bring heightened tension and emotion to the crisp, lilting text…. An author's note at the end tells readers more about the story and about pygmy marmosets, including that the father provides much of the childcare. This dad and daughter escapade will easily engage audiences who like drama and action in their nature stories."  —School Library Journal