Cat's Colors
STORY HOUR KIT
Best Users: Early Childhood & Elementary Educators, Librarians, Booksellers, Play Groups
Best Audience: Children Grades 00-02
About the Kit:
In the picture book, Cat's Colors by Airlie Anderson (Child's Play-International), Cat collects colors as she explores her world on a gray day. Each new color she encounters appears as a spot on her white fur.
You can engage your readers by giving them a kit-provided cut-out of Cat and sending them to find colors.  Prepared displays with picture books with predominant colors and matching crayons will allow your children to "collect" colors and give their Cat colored spots.
Cat's secret is that she is about to have kittens- each kitten a color that Cat has collected.  The kittens are revealed after two curious spreads of Cat hiding in a shrub.  You can re-create that experience with kit-provided "shrubs" that contain seven cut-out kittens to color.  Follow-up activity suggestions allow children to make a necklace of colored kittens or a paper standee with mama Cat and her kittens!
This slideshow requires JavaScript.
DOWNLOAD THE FREE STORY HOUR KIT



Cats Colors Story Hour Kit
Do you like to design your own event marketing materials?
Story Time Poster (JPG)
ABOUT THE BOOK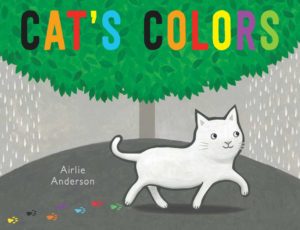 Cat's Colors
By Airlie Anderson
Published by Child's Play-International
ISBN-13: 9781846437618
Series: Child's Play Library
Age Range: 3 – 7 Years
What better thing to do on a gray day than collect some colors? Cat decides to do just that, but where will she find them? A charming, deceptively simple story about making the most of the world around us and giving something back in return.
"A fun and simple book that is perfect for fidgety toddlers and will work well in a baby storytime." —School Library Journal
–
"Gentle and charming." —Kirkus Reviews