SOME WRITER!


THE STORY OF E.B. WHITE
Creating Art with White's Words

Best Users: Educators, Librarians, Families
Best Audience: Children Grades 02-05
ABOUT THE ACTIVITY



After reading Melissa Sweet's Some Writer!: The Story of E.B. White (HMH), you can offer your readers quotations from White to use it in a collage or shadow box.
The activity sheet provides the quotations.  All you need to add is collage materials, boxes, scissors, glue sticks, inspiration and to be (as E.B. White said), "obscure clearly."

This slideshow requires JavaScript.
DOWNLOAD THE ACTIVITY



Some Writer: Quotes to Collage
ABOUT THE BOOK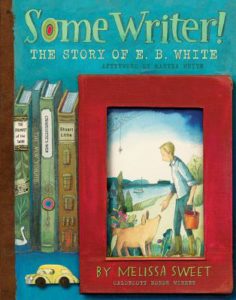 Some Writer!: The Story Of E.B. White
By Melissa Sweet
Published by Houghton Mifflin Harcourt
ISBN-13: 9780544319592
Lexile: 1030L
Age Range: 7 – 10 Years
"SOME PIG," Charlotte the spider's praise for Wilbur, is just one fondly remembered snippet from E. B. White's Charlotte's Web. In Some Writer!, the two-time Caldecott Honor winner Melissa Sweet mixes White's personal letters, photos, and family ephemera with her own exquisite artwork to tell his story, from his birth in 1899 to his death in 1985. Budding young writers will be fascinated and inspired by the journalist, New Yorker contributor, and children's book author who loved words his whole life. This authorized tribute is the first fully illustrated biography of E. B. White and includes an afterword by Martha White, E. B. White's granddaughter.
Kirkus Reviews Best of 2016 list
SF Chronicle Best of 2016 list
Horn Book Fanfare: Best Books of 2016 list
School Library Journal Best of 2016 list
Publishers Weekly Best Books of 2016 list
.
"E. B. White is such a fixture in the children's literature landscape that it's hard to think of him as a regular person. Fortunately, Melissa Sweet comes to the rescue in this individual, creative, and thoroughly artistic chronicle of the noted writer's life."
—Bulletin, STARRED review
.
"An excellent guide to the life of a celebrated writer."
—Publishers Weekly, STARRED review
.
"Like Charlotte, Sweet spins a terrific story. A masterful biography."
—Kirkus Reviews, STARRED review
.
"Melissa Sweet's beguiling biography of the author of Charlotte's Web deserves to be savored by anyone who has ever loved White's words."
—Columbus Dispatch
.
"An E. B. White biography like no other."
—BookPage
.
"Whether the name E. B. White is a new discover or a much-loved author, Some Writer! will captivate readers of all ages."
—Christian Science Monitor