THE INFAMOUS RATSOS



Toughies vs. Softies and Lessons in Kindness
Best Users: Educators, Librarians, Families
Best Audience: Children Grades 01-04

BIKERS ON KINDNESS



In a early chapter book The Infamous Ratsos, two brothers struggle to be the "toughies" their father wants them to be.  Ralphie and Louie try to be school bullies and neighborhood pranksters, but they keep messing things up giving others the impression that they are good kids (which, secretly, they are.)
Who better to discuss the appearance of being tough vs. the drive to do good than…bikers.  Really?  Yes, bikers are some of the most on-the-ground philanthropic folks in the country.  To prove it, Curious City went to rural Michigan to hold a book club on The Infamous Ratsos, with a group of bikers.  Watch and share the results!



DOWNLOAD THE ACTIVITIES



These activities were produced by Candlewick Press and author Kara LaReau!
Review & Use Discussions Questions
Discover Party Ideas
Download Kindness Card Templates
Download the Match Game
Read Mr. Schu Reads Interview with Kara LaReau

ABOUT THE BOOK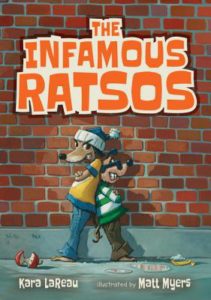 The Infamous Ratsos
By Kara LaReau
Illustrated by Matt Myers
Published by Candlewick Press
Age Range: 5 – 8 Years
Louie and Ralphie Ratso are no softies! Readers are sure to chuckle as the determined Ratso brothers' plans to act tough go hilariously awry.
Louie and Ralphie Ratso's dad, Big Lou, always says that there are two kinds of people: those who are tough and those who are soft. Louie and Ralphie are tough, tough, tough, just like Big Lou, and they're going to prove it. But every time they try to show just how tough they are, the Ratso brothers end up accidentally doing good deeds instead. What'll Big Lou do when he finds out they've been acting like softies all over the Big City? Perfect for emerging and reluctant readers, this clever and surprisingly warmhearted chapter book shows that being tough all the time can be really tough.
"Louie and Ralphie Ratso are determined to be as tough as their truck-driver father, but the rats' efforts go hilariously awry in this funny, thoughtful, and smart chapter book…LaReau packs substantial comedy and poignant emotion into each chapter (the boys' mother has "been gone for a little while now"), adeptly amplified by Myers's spot art."
—Publishers Weekly, Starred Review
.
"LaReau keeps the action high and completely appropriate for readers embarking on chapter books…The humor springs from their foiled efforts and their reactions to their failures. Myers' sprightly grayscale drawings capture action and characters and add humorous details, such as the Ratsos' "unwelcome" mat. A nicely inventive little morality "tail" for newly independent readers." —Kirkus Reviews
.
"The father-son dynamic is realistic and honest. Young readers will feel for the family as they learn to deal with the absence of a loved one. This slender novel packs a strong message of overcoming loss through love and kindness. A solid purchase; a chapter book that entertains and uplifts."
—School Library Journal
.
"Generous black-and-white illustrations evoke setting (a rundown city neighborhood) as well as reinforce the storyline and the light tone of the text, with its natural vocabulary. Here's a beginning chapter book with heart." —Horn Book