TUGBOAT BILL
and the RIVER RESCUE:
STEM Story Hour Kit

Best Users: Librarians, Booksellers, Educators, Early Childhood Educators
Best Audience: Children Grades 00-03
ABOUT THE GUIDE



"This delightful tale will be a hit in storytime…"
—School Library Journal
If interactive read alouds float your boat, explore using this kit in an early childhood or elementary classroom, library, or bookstore or at a child's party or play date. Best for ages 3-8.
In the picture book Tugboat Bill and the River Rescue, Bill and his barge friend Mabel prove to be heroes of the Hudson River when they rescue a kitten that falls in the water.  This kit provides black and white templates of Bill, Mabel, and the kitten for your story hour kids to reenact the tale. Bill and Mabel are designed to be floatable standees!
The book's river setting opens an opportunity to provide a simple STEM demonstration about how density affects floating objects.  This kit walks you through the materials, practice, and suggested dialogue of that demonstration.  There is even a take home sheet so the experiment can be replicated in the family bathtub.

This slideshow requires JavaScript.
DOWNLOAD THE STORY HOUR KIT

Tugboat Bill Story Hour Kit (PDF)
Like to design your own posters?
Download Poster (JPG)
ABOUT THE BOOK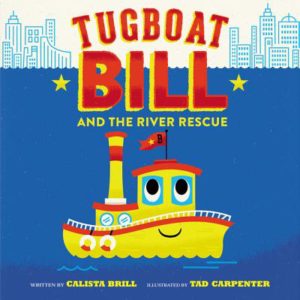 Tugboat Bill and the River Rescue
By Calista Brill
Illustrated by Tad Carpenter
Published by HarperCollins Publishers
ISBN-13: 9780062366184
Age Range: 4 – 8 Years
Bill is a tugboat. Mabel is a barge. Together they go up and down the choppy river.
The other ships are big and vain. They tease Bill and Mabel. But when a kitten falls in the water, it's up to Bill and Mabel to save the day!
A bright, adjective-laden work that will appeal to toddlers and preschoolers….Brill's text contains rich vocabulary (Bill's captain is either "sunny or sour," depending on the day; the ships are "haughty and vain") and is filled with boat-related terms that serve to paint a vivid picture. So, too, do Carpenter's retro, flat illustrations, which are mostly done in primary colors, with occasional touches of green, black, and gray…This delightful tale will be a hit in storytime and in one-on-one readings with young transportation fans."
—School Library Journal
.
"With short, eclectic line breaks and occasional rhymes, Brill's narrative has a slightly swaying feel not unlike standing on a ship deck: it takes a little getting used to, but those reading aloud will soon get their sea legs. Carpenter's doughty, expressive protagonists will instantly remind readers of their own beloved bathtub toys, and his bold graphics and schoolroom palette tip their hat to the legacy of tugboat stories that have come before."
—Publishers Weekly
.
"Alliteration and playful descriptors further add to its read-aloud appeal. An uplifting story sure to tug heartstrings."  —Booklist
.
"Brightly colored illustrations capture the feeling of bygone times, and gentle rhymes full of alliteration bounce briskly along…Sure to be a favorite with young listeners, this warm and comforting selection, eminently suitable for bedtime or laptime reading, has the feeling of a classic to be savored…An old-fashioned story with timeless appeal."  —Kirkus Reviews