WHOBERT WHOVER, Owl Detective:
Story Hour Kit


Best Users: Librarians, Booksellers, Educators, Educators, Play Groups
Best Audience: Children Grades 00-03

ABOUT THE GUIDE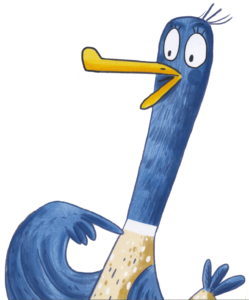 In this "who, who done it" picture book, Whobert Whover, owl detective, comes upon Perry the Possum, "lying awfully still."  Whobert has his next case! 
Following a woodland getaway trail, Whobert searches for clues, talks to eyewitnesses, and points to many suspects.  Readers come to suspect something of their own.  Perry might be "playing possum," and the culprit causing Perry's distress might be closer than we think!
With this kit your readers can become the hapless but charming detective by making a Whobert hat (complete with wings), sporting a paper magnifying glass, and starting out on the getaway trail with a detective kit bag.  In that bag will be a detective's notebook with a list of evidence they need to find.  The kit provides six cut-out evidence cards to hide around your space.  The evidence cards fit perfectly into the detective notebook, allowing readers to wrap up the case.  Also tucked into the detective kit is a list of recommended mystery picture books.
The kit contains:
— Poster and copy to share your event
— Suggested preparation
— Detective owl hat (with wings!)
— Cut-out magnifying glasses
— Print and fold detective notebook
— Printable evidence cards
— Labels to make lunch bags into detective kits
— Reproducible book list


This slideshow requires JavaScript.
DOWNLOAD THE STORY HOUR KIT

Whobert Whover Story Hour Kit (PDF)
Like to design your own posters?
Download Poster (JPG)

ABOUT THE BOOK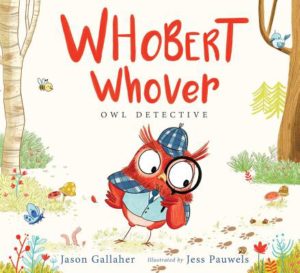 Whobert Whover, Owl Detective
By Jason Gallaher
Illustrated by Jess Pauwels
Published by Margaret K. McElderry Books
ISBN-13: 9781481462716
Age Range: 4 – 6 Years
Help Whobert Whover, Owl Detective, keep his woods safe in this hilarious who-who-dun-it.  What happened to Perry the Possum? Whobert Whover, Owl Detective, is on the case!  Did Debbie the Duck whack Perry with her wicked wings?  Or did Freddie the Frog soak Perry in his sickening slime?  And what if the culprit is closer to home than Whobert expects?
"With a cleverly placed page turn and anticipated rhyme…Pauwels' digital forest scenes full of tiny onlookers such as bees, spiders, and worms complement Gallaher's witty wordplay…A cracking whooooo-dunit."
—Kirkus Reviews
.
"Why should adults get all the good unsolved mysteries? Debut author Gallaher's pun-laden whodunit starts with a classic scene: Perry the Possum, "lying awfully still" on the forest floor…Belgian artist Pauwel's exaggerated drawings, the assured comic rhythms of the storytelling, and a facepalm-worthy ending (which turns on Whobert's cluelessness and Perry's characteristic possum behavior ) make this a satisfying and rousingly silly read-aloud."
—Publishers Weekly