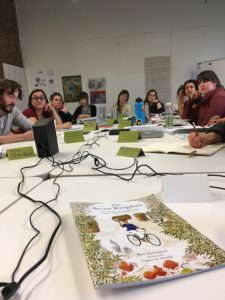 THE SECRET KINGDOM
Art Lessons for Exploring Home
Best Users: Art Educators, Classroom Teachers, ELL Educators, Librarians
Best Audience: Children Grades 03-07
THE BACKGROUND



Curious City and author Barb Rosenstock presented her picture book The Secret Kingdom: Nek Chand, a Changing India, and a Hidden World of Art illustrated by Claire A. Nivola (Candlewick Press) to a group of MAT (Master of Arts in Teaching) Teacher Candidates at Maine College of Art (MECA).
Nek Chand, a refugee from the partition of India, recreated the village he left behind in a massive outdoor art installation known today as the Rock Garden of Chandigarh.
The Teacher Candidates used The Secret Kingdom to reflect on the complex feelings of home and community with students at an elementary school with a growing refugee and first generation population. Our thanks to Candlewick Press who provided a case of the galleys for this art exploration and to MECA Professor Kelly McConnell for opening her classroom.
EXPLORE & DOWNLOAD THE LESSON PLANS
Here are the art lessons the MECA Teacher Candidates created which are free for your use and inspiration!
1) SAFE SPACES, SAFE SOUNDS
Created by Educators Samara Yandell and Hannah Bevens
"In the village, Nek planted, laughed, and listened, as the ancient stories circled with the seasons, beginning to end and back again."
—The Secret Kingdom
The Teacher Candidates invited students to create art that, like Nek Chand's work, echoed feelings of home. Wanting to be sensitive to the fact that "home" could be an emotional trigger, the Teacher Candidates created a lesson focused on school as a safe space that students have in common. The lesson asked students to reflect on safe spaces and what sounds gave that space a safe feeling.
Reflecting on Nek Chand's practice of repurposing discarded times to recreate home, the lesson used recycled items to make wind chimes. The finished wind chimes were exhibited in the entryway of school, giving the students a daily reconnection to their safe space.
DOWNLOAD & EXPLORE Safe Spaces, Safe Sounds: Lesson for The Secret Kingdom (PDF)
This slideshow requires JavaScript.
---
2) HAIKUS FOR HOME
Created by Educators Amanda Albanese and Raven Zeh
"He made skeletons from twisted bikes and rusty pipes, covering their frames in concrete etched with the faces of goddesses and queens. Rows of bangles made rainbows of singing men, swaying women, and laughing children."
—The Secret Kingdom
The materials Nek Chand used to build his monument to his former village did not come from his homeland. The materials' colors and textures, however, were reminiscent the sensory experiences of his childhood.
Students were given time to experiment with visual, textural, and auditory prompts, to make associations to their own homes, to generate sensory language, and to write a haiku poem about home.  To accompany this poem, students produced an abstract watercolor piece exhibiting textures and colors. The final product was a video in which the students read their haikus over their watercolor artwork.
DOWNLOAD & EXPLORE Haikus for Home: Lesson for The Secret Kingdom (PDF)
This slideshow requires JavaScript.
---
3) TREE OF LIFE
Created by Educators Greta Grant and Victoria Parsloe
"He filled rusty barrels with water, rolled them in secret to his land, and brought the plants back to life. The secret kingdom filled with flaming bougainvillea, sweet mango, and tangled pipal trees."
—The Secret Kingdom
Inspired by Nek Chand's drive to recreate the village he remembered in a corner of jungle he tamed, the Teacher Candidates had students reflect on their unique qualities. What words, phrases, or objects define their drive? With sheets of copper as their canvas, students carved words and symbols into the pliable metal. Their reflections were cut into leaf shapes and connected to wire "branches." The branches were then wound onto a tree trunk structure to create a collaborative, unified tree. Together, the students could see that while they were all unique, they had a shared story and community.
DOWNLOAD & EXPLORE Tree of Life: Lesson for The Secret Kingdom (PDF)
This slideshow requires JavaScript.
---
4) STORY BOWL OF BELONGING
Created by Educators Laura Berg and Coreysha Stone
"Season by season, Nek's head filled with stories, until they overflowed."
—The Secret Kingdom
"Where do I belong?" was the essential question of the lesson. Students participated in an "icebreaker" on the first day which introduced the artist's purpose of storytelling, covered the use of pronouns, and explored what it means to "belong" in the classroom. Each student chose one unique object to place in a shared bowl. Once the bowl was filled with objects, the bowl came to represent "us" in the classroom while the objects represented "me" and "you."
Students then learned the technique of papier-mâché and set to work constructing their own story bowls. They decoupaged colored tissue paper, added paint, collaged images from The Secret Kingdom, and added pronouns. Each bowl told a story of self and community.
DOWNLOAD & EXPLORE Story Bowls of Belonging: Lesson for The Secret Kingdom (PDF)
This slideshow requires JavaScript.
---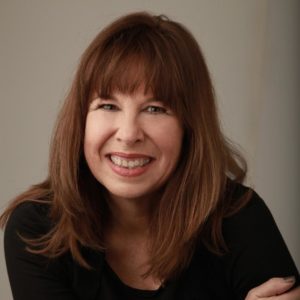 "While watching videos of these young students analyzing Claire's illustrations, and working with Nek's true story, I experienced their surprise, delight and sometimes their frustration. I noticed the patterns on their t-shirts and the embroidery on their headscarves, the colors of their skin and the colors in their artwork. I watched kids in one suburban school, yet from all over the world, engage with my words, in some cases understanding them better than I did myself. Most importantly, I watched them relate to a boy from India born over 100 years ago—a boy who was forced to go, but who found home again through his art."
—Author Barb Rosenstock for Nerdy Book Club
READ the full article
---
ABOUT THE BOOK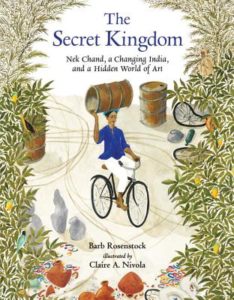 The Secret Kingdom: Nek Chand, a Changing India, and a Hidden World of Art
By Barb Rosenstock
Illustrated by Claire A. Nivola
Published by Candlewick Press
ISBN-13: 9780763674755
Age Range: 7 – 10 Years
The incredible story of the world's largest visionary environment: the Rock Garden of Chandigarh, kept secret by outsider artist Nek Chand for fifteen years.
After the partition of India in 1947, Nek Chand Saini settled in the city of Chandigarh, with nothing but stories brought from his homeland. Dismayed at his stark new surroundings, Nek began collecting river rocks, broken glass, and cracked water pots found on the roadside. He cleared a section of jungle and for seven years he stockpiled odds and ends. They were castoffs and rubbish to everyone else, but to Nek, they were treasures. He began to build a labyrinth of curving paths, mosaics, and repeating patterns: his very own tribute to the winding village of his youth, a hidden land of stories. Nek kept his kingdom secret for fifteen years, until a government crew stumbled upon it and sought to destroy it. But local fans agreed in awe: the Rock Garden had to be protected. Author Barb Rosenstock introduces readers to the outsider artist's stunning creation, while Claire A. Nivola's illustrations bring to life the land's natural beauty and the surreal world Nek coaxed from his wild landscape.
"A captivating biographical narrative, this book is an ideal choice for expanding any visual arts—focused picture book collection."
—School Library Journal
.
"Compelling, delicate, and spare, this book brings both artist and garden to life."
—Kirkus Reviews
.
"Chand's quiet resolve comes through strongly in Nivola's understated paintings, and a dramatic gatefold reveals photographs of his kingdom today. Rosenstock's gratifying story conveys how art has the capacity to revitalize and restore."
—Publishers Weekly