Thank you to the librarians at the NELA 2017 Conference who attended the workshop on The Healing Library. Together we brainstormed new topics for future kits in framework.  Curious?
What is the Healing Library?
The Healing Library is a set of free resources that allow a library to create and lend a kit of materials and picture books that assist families in healing during periods of trauma.
What current Healing Libraries are ready to download, assemble, and circulate?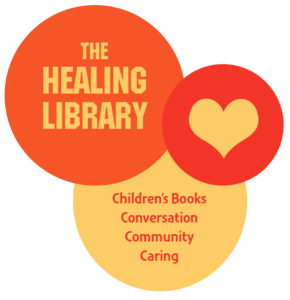 1) THE DEATH OF A LOVED ONE
The Healing Library: The Death of a Loved One
2) THE DEATH OF A PET
The Healing Library: The Death of a Pet
3) ALZHEIMER'S & YOUR FAMILY
The Healing Library: Alzheimer's & Your Family
How would you create a Healing Library that addresses an issue in your community?
1) Feel free to contact Megan Emery, the creator of the pilot Healing Libraries for guidance. Our only parameters are that you work hand-in-hand with a mental health care professional and any other relevant community partners to make The Healing Library reflect professional psychological understandings.
2) Feel free to The Healing Library logos in your kit design.  Refer to the Librarian's Guide in any of the existing kits for other design elements.
The Healing Library: Logo
The Healing Library: Line Logo
3) Consider these possible topics (brainstormed by NELA librarians):
FAMILY HEALTH ISSUES:
Sickness in the Family
Hospital Stay / Surgery
Drug Addiction/Overdose/Rehab
Alcoholism
Cancer
Terminal Illness
Mental Illness
Traumatic Brain Injury
Autism
Disability/Otherly-Abled
Cold/Flu
Rehab
Parkinson's Disease
Death of a Child or Baby
FAMILY SOCIAL ISSUES:
Divorce
Family Members in Prison
Suicide in the Family
Peer Suicide
Domestic Violence
Economic Insecurity/Foreclosure
Food Insecurity
New Baby
Adoption
Moving
Deployment
Long Distance Relationships with Family
Bullying
House Fire
Car Accident
Foster Care/Being Raised by Grandparents
Loneliness/Isolation
LARGER SOCIAL ISSUES:
Violence in the Community / Gun Violence
Opioid Addiction/Crisis
Homelessness
Climate Change/Natural Disaster
Environment/Pollution
Gender Violence
Combating Racism/Inviting Diversity/Tolerance
Welcoming Guide for New Arrival Families
Guides to Welcoming New Arrivals

What available Curious City DPW kidlit kits address these family & social issues?
Welcoming Guide for New Arrival Families
Guides to Welcoming New Arrivals
I'm New Here: Classroom & Community Guide to Welcoming Immigrants
A Crack in the Sea: A Guide for Educators & Readers
Skating with the Statue of Liberty: Discussion Guide
Climate Change/Natural Disaster
Another Kind of Hurricane: Connecting with Communities in Need
Combating Racism/Celebrating Diversity & Tolerance
Unidentified Suburban Object: Discussing Identity, Difference, & Cross-Group Friendship
Piecing Me Together: A YA Discussion Guide About Race, Class, Gender, and Intersectionality
28 Days: Audio Performances Promote African American History
Words as Freedom: Poetry Workshop Based on Don Tate's Poet
A Crack in the Sea: A Guide for Educators & Readers
The Storyteller: Activities for Educators, Librarians & Readers
Either the Beginning or the End of the World: YA Engagement Resources
Skating with the Statue of Liberty: Discussion Guide</
Adoption
The Story I'll Tell: Adoption & Arrival Writing Activity
Disability/Otherly-Abled