Reader Engagement Project: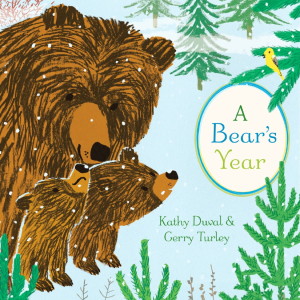 THE BOOK
With spare, accessible text and charming illustrations, A Bear's Year by Kathy Duval and illustrated by Gerry Turley (Random House Children's Books) is a sweet, gentle introduction to how bears experience the changing seasons, perfect for the youngest readers and listeners.
"…language lends itself to sharing both with a group of young cubs or with a solitary special one, snuggled on a lap. A sweet and satisfying look at the natural world." —School Library Journal

READ ALOUD & CELEBRATION OF THE SEASONS KIT
Use this kit in an early childhood or elementary classroom, library, bookstore or at a child's party or play date. Best for ages 2-6.
This kit will give you the materials, preparation tips and suggested dialogue to:
Sing a song about bear cubs to the tune of Twinkle, Twinkle Little Star.
Pull paper bear cubs (for each child) from a paper den.
Send your cubs on a bear hunt for each of the four seasons.
Allow your cubs to collect a paper wedge for each of the seasons.
Allow your cubs to crawl in their own paper den when the snowflakes fall.
Create a Circle of Seasons in A Bear's Year with your cubs using the collected wedges and a spinning arrow,
The kit also includes a poster and copy to advertise your event!
Engagement / Programming Tool:
View & Download Read Aloud & Celebration of the Seasons Kit
Best Users:
Educators Grades 00-03, Public Children's Librarians, School Librarians, Play Groups, Nature Centers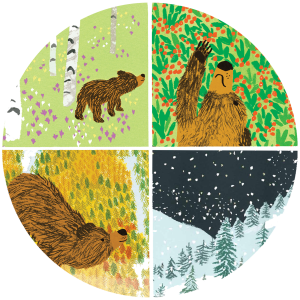 Best Audience:
Children Grades 00-03
More on the Book:
A Bear's Year
By Kathy Duval
Illustrated by Gerry Turley
Published by Random House Children's Books
ISBN-13: 9780385370127
Age Range: 3 – 7 Years