I'M NEW HERE


Welcoming Kit




For Communities & Classrooms
Best Users: Educators, Public Children's Librarians, School Librarians, Community Groups, Welcoming / Immigrant Organizations
Best Audience: Children Grades 00-05
ABOUT THE KIT
This Welcoming Kit, created in conjunction with I'm Your Neighbor, helps you create a conversation about welcoming immigrants and refugees in your classroom, library or community.
The kit provides talking points and materials to help you:
— Have conversations about the universality of being "new."
— Explore situations where one feels both "new" and "different."
— Connect the story of three immigrant children to those feelings.
— Show how being "new" and being "different" as a result of being an immigrant or refugee is a unique experience.
— Discuss how one can be "welcoming" to immigrants and refugees as an individual or community.
— Write and draw the concepts of "new" and "welcoming."
— Create a photo booth with speech bubbles with "welcome" in different languages.
— Share a coloring sheet and trace words of welcome.
This video is the outcome of using this kit in a classroom:



These photos are the outcome of using the kit at a public library:


This slideshow requires JavaScript.
DOWNLOAD THE KIT
Download I'm New Here: Welcoming Kit

THE BOOK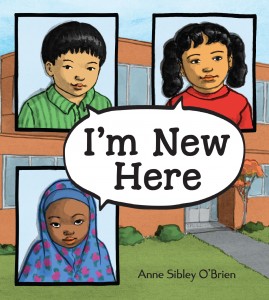 I'm New Here
By Anne Sibley O'Brien
Published by Charlesbridge Publishing
ISBN 9781580896122
Age Range: 5- Adult
Maria is from Guatemala, Jin is from Korea, and Fatima is from Somalia. All three are new to their American elementary school, and each has trouble speaking, writing, and sharing ideas in English. Through self-determination and with encouragement from their peers and teachers, the students learn to feel confident and comfortable in their new school without losing a sense of their home country, language, and identity.
Young readers from all backgrounds will appreciate I'm New Here by Anne Sibley O'Brien (Charlesbridge Publishing) for its touching story about the assimilation of three immigrant students in a supportive school community.
Kirkus Reviews Best Picture Books of 2015

"Whether readers are new themselves or meeting those who are new, there are lessons to be learned here about perseverance, bravery, and inclusion, and O'Brien's lessons are heartfelt and poetically rendered."

—Kirkus Reviews, Starred Review