DEADLY FLOWERS


Ninja Game for Libraries,
Book Clubs & Bookstores

Best Users: Librarians, Book Clubs, Bookstores
Best Audience: Children Grades 05-10

ABOUT THE ACTIVITY



Librarians, booksellers, and book clubs can use this game not only to engage readers with Kata's ninja adventures in Deadly Flowers and Deadly Wish (Boyds Mill Press), but also to engage them in using the library or bookstore as a resource.
School librarians may find the kit to be a great way to introduce readers to the layout and search tools of the library at the beginning of the term.
In the game, three teams follow game cards through the stacks to find a series of interconnected clues and compete on the "practice grounds" in tasks of agility and cunning.  The final prize is a tangible teaser leading participants to explore the ninja girl series.
This kit contains a printable poster, game instructions, sample dialogue, printable game cards, temporary tattoo templates, and other event materials!


This slideshow requires JavaScript.
DOWNLOAD THE EVENT KIT



Grab the Event Kit Here!
Deadly Flowers: Ninja Game
Want to design your own event poster?
Download Template (.jpeg)
ABOUT THE BOOKS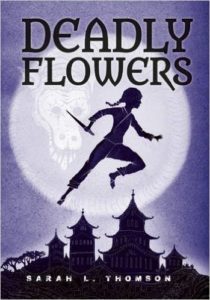 Deadly Flowers: A Ninja's Tale
By Sarah L. Thomson
Published by Boyds Mill Press
Hardcover ISBN-13: 9781629792149
Lexile: 750L
Age Range: 10 – 14 Years
Kata, a ninja, embarks on her first solo mission, for which she must enter a warlord's castle and make sure that a certain sleeping occupant never awakens. But then Kata discovers that her target is just a young boy (and that her new accomplice is that boy's slightly older sister), and suddenly her mission is much more complicated than she bargained for.
Faced with taking someone's life or confronting the dire consequences of failure, Kata must make a hard choice, one that leads her into a more dangerous battle than she ever expected. In this action-packed coming-of-age novel, Kata discovers that while a ninja must always act alone, humanity requires that you accept the trust and friendship of others.
NOTE: The sequel, Deadly Wish, will be published in Fall of 2017.
 "Genuinely thrilling, with surprises at every turn and a solid emotional core, this is just the thing for Percy Jackson fanatics thirsty for more, more, more." —Booklist
.
"Nonstop action, interesting characters, and a journey into another time and culture make this novel worthy."
—VOYA Magazine
.
"Thomson has created heroines who are opposites yet manage to use their strengths to take control of their lives under the social restraints of their time…Edge-of-your-seat action that will have both girls and boys rooting…"
—Kirkus Reviews
.
"The story unfolds with many twists and turns that keep readers intrigued…a great combination of adventure, fantasy, and horror, with two strong heroines who form an unlikely alliance. A great story that is perfect for readers who are interested in ninjas and other warriors."
—School Library Journal
.
"This action-packed adventure blends historical fiction with intriguing supernatural elements drawn from Japanese folklore…An author's note adds historical and mythological context."
—The Horn Book
.
"Ninja-loving readers will rejoice at this clever, dangerous, vivacious book about a group rarely mentioned: girl ninjas."
—The Bulletin of the Center for Children's Books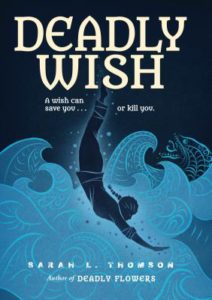 Deadly Wish: A Ninja's Journey
Series: A Ninja's Journey Series, Book 2
By Sarah L. Thomson
Published by Boyds Mill Press
ISBN-13: 9781629797779d)
Lexile: 870L
Age Range: 10 – 14 Years
This sequel to Deadly Flowers is a fast-paced and compelling read with a multitude of astonishing plot twists. Kata is one of the best employees of a master thief until he sells her to Madame Chiyome, the woman who trained Kata as a ninja. It turns out that Madame Chiyome has been hired by Kata's enemy, Saiko, to capture Kata and the magical pearl she possesses. But while escaping her enemies, Kata puts her trusted group of friends in danger. Should Kata stay loyal to her mission, as a true ninja would, or to her friends? Can Kata trust the fellow thief who says he is in love with her and wants to help her? The themes of trust versus independence underlie each of Kata's decisions as she tries to get the pearl out of Japan to weaken the demon within it. As Kata faces one obstacle after another, including a wide range of supernatural creatures, she is tempted to make a wish to save herself, even though could it be the last wish, the one that frees the demon and lets him take her soul. Will her sense of duty and honor prevail against all odds?
"Kudos to Thomson for a well-researched story with plausible characters in a fantastical world reminiscent of 16th-century Japan. Jam-packed with thrilling action and hurtling plot twists—readers may forget to breathe."
—Kirkus Reviews
.
"Fans of the first book in the series, Deadly Flowers, will not be disappointed when they rejoin Kata on another perilous journey. In this sequel, Kata has matured as an independent fighter who learns about friendship, trust, responsibility, and the freedom to make decisions…A great option for tweens and younger teens interested in Japanese folklore and ninja action."
—School Library Journal