How can libraries serve families during times of trauma?
To assist families in healing, libraries can assemble kits from The Healing Library's free resources.


This slideshow requires JavaScript.
As a counselor I've seen how community plays a role in people's ability to endure, and even heal, in the midst of loss, tragedy, and change. Libraries are key community entities that can be part of this connecting people with resources and information in times of need in a variety of ways.
.
The Healing Library offers an encompassing resource for those looking for more than just a couple books on a topic. I'd love to see The Healing Library find a home in libraries everywhere— it is such a wonderful resource for patrons and communities.
.
—Bonnie Thomas, Cognitive Behavioral Therapist, Consultant on The Healing Library
DOWNLOAD THE KIT MATERIALS
Explore the downloadable kit materials The Healing Library offers for the following family hardships: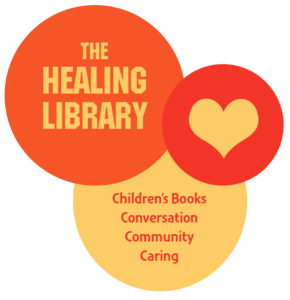 1) THE DEATH OF A LOVED ONE
The Healing Library: The Death of a Loved One
2) THE DEATH OF A PET
The Healing Library: The Death of a Pet
3) ALZHEIMER'S & YOUR FAMILY
The Healing Library: Alzheimer's & Your Family

The resources in each kit include:
— How to Use This Kit: Suggested use for both families & librarians
— Discussion Guide: Best practices in speaking with a child
— Activities Guide: Art and play based therapy activities
— Acts of Kindness Guide: Topic relevant acts of community support
— Community Helpers Guide: Where families can seek assistance
— Book Discussion Guides: Curated list of picture books with discussion questions and conversation starters

OTHER RESOURCES
The kits can be customized and librarians and community groups are welcome to develop additional topics and kits.  These items may be useful in those pursuits:
The Healing Library: Logo
The Healing Library: Line Logo
Explore ideas additional topics and kits brainstormed at the New England Library Association Conference in 2017.

MATERIAL CREATORS
The kits were created by librarian Megan Emery of Chattanooga Public Library in consultation with Bonnie Thomas, a cognitive behavioral therapist with a focus on art and play based therapy, David Moorhead, a children's librarian at Lewiston Public Library, and Kirsten Cappy of Curious City, a children's literature advocate.