STARRING CARMEN!
A Picture Book with Video and
Classroom & Event Activities

Best Users: Librarians, Booksellers, Educators, Community Groups
Best Audience: Children Grades 00-03

EXPLORE & DOWNLOAD
THE ACTIVITIES

Curious City is happy to host the classroom and event activities fantástico created by educator Crystal-Elisa Aldamuy!  They include:
— Discussion Prompts
— Fish Puppet Craft
— Tiger Ear Costume
— Rose Bush Costume
— Literary Design
— Curriculum Connections
— Vocabulary
DOWNLOAD  Starring Carmen: Activities in English (PDF)
DOWNLOAD Starring Carmen: Activities in Spanish (PDF)
Crystal-Elisa Aldamuy is an academic and youth arts advocate currently serving as the Director of the Arts for Boys & Girls Clubs of the Midlands. She's a certified Arts Integration Specialist dedicated to using the arts to teach critical thinking, literacy, STEM, and diversity.

BILINGUAL READING POSTERS

Check out these stunning bilingual posters produced by author Anika Denise from Lorena Alvarez Gómez's artwork. Download to print on 11 x 17 paper!


Starring Carmen Poster: Reading Rocks
Starring Carmen Poster: Reading Star

SHARE THE VIDEO

As you can imagine, Curious City had a joyous time making this video for young readers and drama-lovers!

Also available to view on TeacherTube!

ABOUT THE BOOK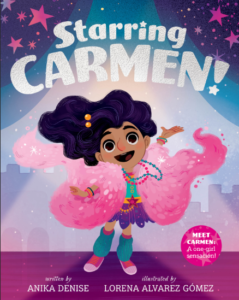 Starring Carmen!
By Anika Denise
Illustrated by Lorena Alvarez Gómez
Published by ABRAMS
ISBN-13: 9781419723216
Age Range: 5 – 7 Years
Meet Carmen! She LOVES the spotlight and applause. She's an actress, a singer, a dancer—a one-girl sensación! She exhausts her parents with her nightly performances and completely overshadows Eduardo, her adoring little brother. But when Eduardo shows his big sister how much he loves her in a way even Carmen can't ignore, will Carmen realize that the stage is big enough for two?
Exuberant illustrations by Lorena Alvarez Gómez offer the perfect complement to Anika Denise's warm, Spanish-sprinkled text in this celebration of theater, family, and imagination.
"An attention-seeking young star of imaginative stage shows—all produced at home for her Latinx family members—learns that sharing the spotlight can be equally fulfilling…Smartly, the narrative depicts all Carmen's activities as creative work; it's not just about the performance, but also building and rehearsing. And her parents (dark-skinned mom and light-skinned dad) accommodate her dreams while also realistically hoping to enforce bedtime and make sure Eduardo doesn't get left in the shadows. The art seems to leap off the page, turning Carmen's stagecraft into magic, whether it's colorful pirate seascapes or robot rock operas. The mix of detail between home decoration and wildly over-the-top costumes and props is well-balanced and rich…For caregivers of extremely extroverted kids, Carmen's ambitions will feel very familiar; for kid readers, Carmen and Eduardo's very fun activities might inspire some musical productions at home."

—Kirkus Reviews